Refinition PPG a élaboré les présentes procédures d'utilisation normalisées en pensant aux personnalisateurs et aux restaurateurs. Quel que soit le véhicule ou le subjectile sur lequel vous travaillez, le guide décrit les processus recommandés par PPG pour réussir votre préparation et votre peinture.
Outre les processus, vous devez aussi consulter les renseignements utiles que renferment les fiches techniques de chacun des produits PPG que vous utilisez.
Nous espérons que le présent guide sera pour vous un atout précieux, qu'il sera facile à suivre et qu'il vous permettra de transformer vos rêves en finis parfaits qui dureront des années.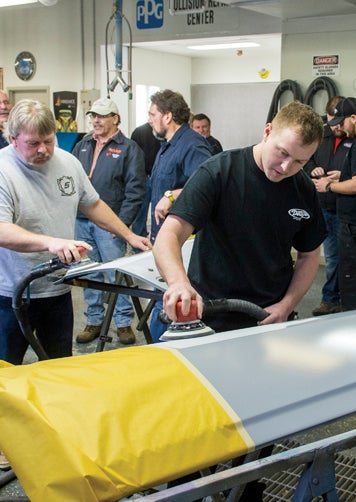 Take The Class - Custom Restoration Seminar
We've created a class that helps painters achieve great results with custom restoration projects from prep-time to show-time. In the seminar you'll learn about the latest products to use and the processes to apply them. You'll learn about the various substrates you might encounter after sanding down to the metal - and the best ways to prepare them. And with the wide variety of products available to choose from, we can help guide you in selecting the best undercoats, getting that great-looking, authentic color, and choosing the right clears that'll turn heads and protect your vehicle for years to come.