We bring color and brightness to our neighbors and communities around the world.
Our purpose to Protect and Beautify the World guides our actions to serve our communities and neighbors. PPG and the PPG Foundation collaborate with our global colleagues, community partners and other stakeholders to help our communities thrive.
Our community engagement highlights in 2022
$16.2MM
giving by PPG and the PPG Foundation in 2022
25,000+
employee volunteer hours in 2022
8.2MM
people impacted through the COLORFUL COMMUNITIES® program from 2015- 2022
473
Colorful Communities projects completed from 2015-2022
46,500
gallons of paint (176,000 liters) donated from 2015-2022
2.6MM+
students reached by education programs in 2022
In 2022, our efforts represented a continued focus on advancing education, delivering community sustainability and encouraging PPG employee volunteerism. Visit the Communities section of the PPG website for more information about how we are creating vibrant communities around the world.
Education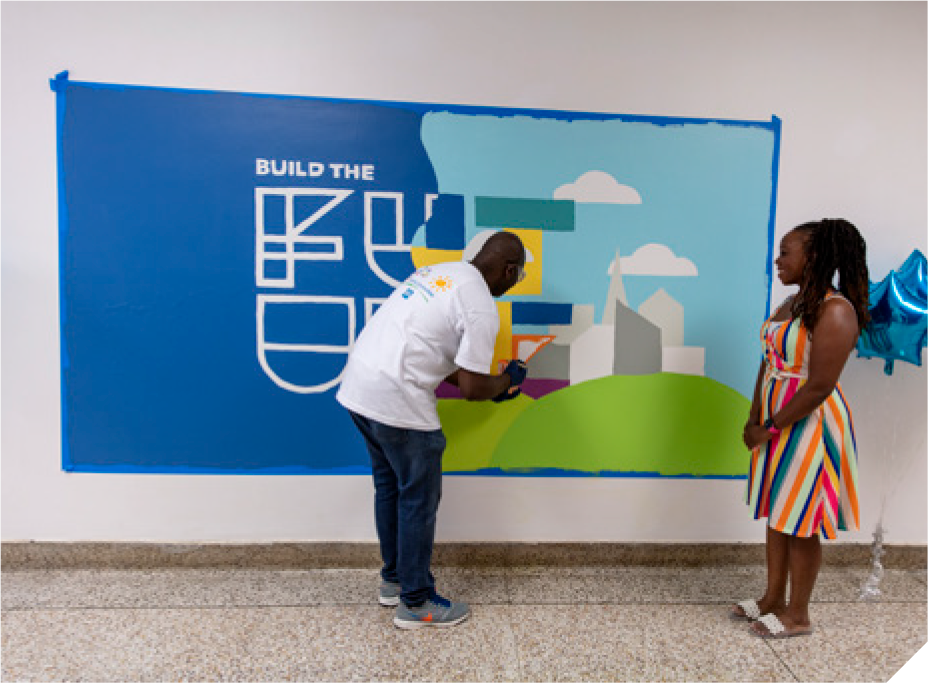 PPG has long been committed to supporting education in the communities where we are active. Diversity, equity and inclusion is integrated into all that we do as we aim to accelerate pathways for diversity in STEM fields. Our goal is to build the next generation of diverse and innovative science, technology, engineering and math (STEM) leaders by inspiring learning and cultivating careers for students of all ages. In 2022, we reached more than 2.6 million students across the education programs that we support.
Highlights in 2022 across our education priority area include: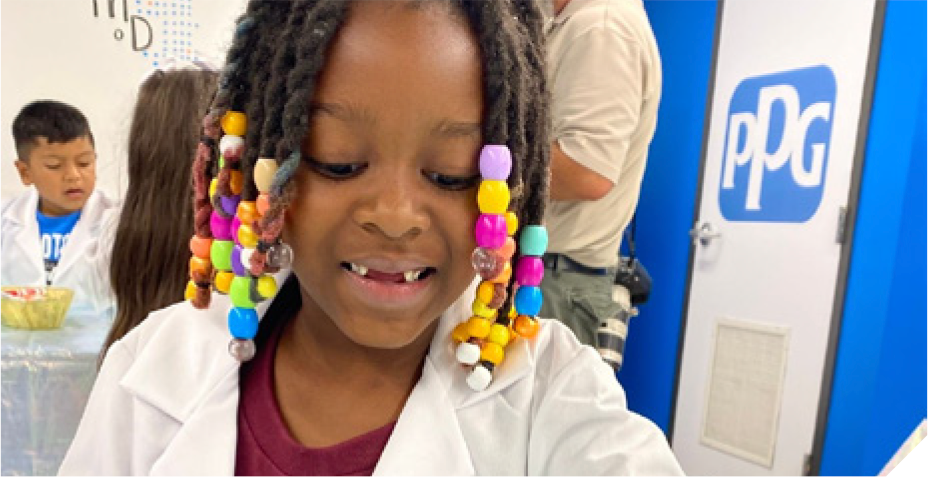 Science center support: Science centers play a vital role in fostering a love of STEM by providing opportunities for hands-on learning. We collaborate with science centers around the world, supporting color-related exhibits, special science exhibitions and the development of on-site chemistry labs. This year, we supported the opening of two new labs with science center partners, including the PPG STEM Lab at the Discovery World Museum in Milwaukee, Wisconsin, and the PPG STEAM Studio at the Museum of Discovery in Little Rock, Arkansas.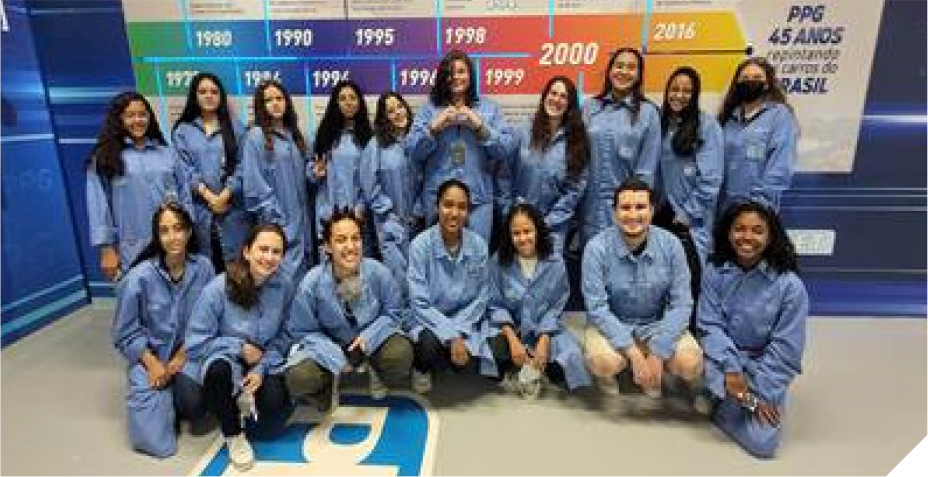 Advancing diversity in STEM: In support of our mission to inspire more women to work in STEM-related fields, we worked with nonprofit Casa Hacker to launch a new program in Sumaré, Brazil called Girls in Tech. This program offers high school girls an opportunity to participate in after school classes on a range of technology-related subjects, including computer programming, robotics and 3D printing. At the University of Wisconsin-Madison, we supported the Bridge to the Chemistry Doctorate Program which aims to increase the number of students from historically underrepresented groups who complete a Ph.D. degree in chemistry.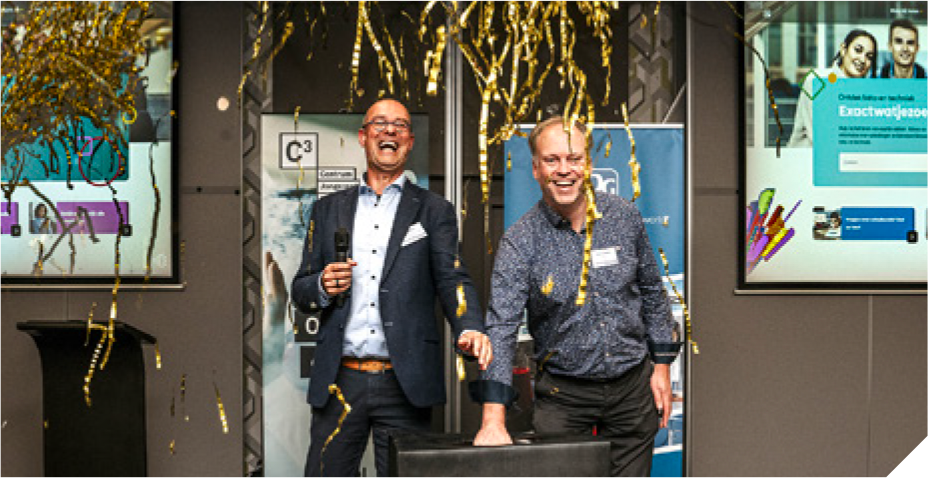 Hands-on learning: PPG partnered with Centrum JongerenCommunicatie Chemie (C3), a Dutch education nonprofit, to launch an online platform that supports young students with chemistry and life sciences and inspires future school and career choices in STEM. PPG also supported the development of another C3 project in which students create their own paint factory online, making choices in categories such as raw materials, energy, packaging and transportation that help them learn about sustainability.
Community Sustainability
As an employer and a community partner, we play a role in protecting the communities of which we are part. PPG helps meet essential needs, deliver disaster relief, support equal opportunities, and brighten community spaces through our Colorful Communities program.
Highlights across our community sustainability efforts in 2022 include:
Colorful Communities: PPG's Colorful Communities program unites the power of innovative PPG paint, our employee volunteers and monetary commitments to brighten neighborhoods and make a positive impact. Our employees completed 87 Colorful Communities projects this year, bringing the total number of projects completed to 473 since the program's inception in 2015. Over the summer, we focused on transforming classrooms into colorful and engaging environments as a way to inspire students and staff as they returned to learning spaces after the challenges presented by the COVID-19 pandemic. This effort, our New Paint For a New Start campaign, took place in July and reached 36 schools around the world, impacting more than 23,000 students and teachers.
At Ciudad de Brasilia school in Santiago, Chile, more than 115 volunteers helped 550 students by painting the walls of the school's courtyard and corridors, including a nature-themed mural made from a student's drawing.
At TEDA No.1 Kindergarten in Tianjin, China, PPG volunteers created engaging spaces for students to learn and grow and revitalized the building's exterior after it faced damage due to weathering.
Delivering disaster relief: In response to the war in Ukraine, we made a commitment to support Ukrainian refugees, with a focus on humanitarian relief and longer-term recovery support. PPG invested more than $830,000 to support a variety of relief organizations that impacted refugees mainly in the Ukraine, Poland, the Czech Republic, Slovakia, Hungary and Romania. These funds provided direct relief and also helped schools, charities and government entities expand their educational infrastructure and provide additional after-school care as families integrate into their new communities. Our people have also made use of PPG Employee Volunteer Grants (EVGs) to secure funds for more than 35 charities and governmental entities where they volunteered their time. The funding has helped organizations provide food, shelter, necessities, medical care, counseling, job placement and other services. In addition, dozens of local material collections were organized in our locations in more than 10 countries and more than 30 sites participated.
Equal opportunity communities: We support social justice efforts that provide access to opportunities across our communities, and work closely with our Employee Resource Networks to identify organizations that meet the needs of historically excluded populations. This year, we continued our relationships with the NAACP Legal Defense Fund, Chinese for Affirmative Action, Tegan and Sara Foundation, Center for Policing Equity and Equal Justice Initiative, among others.
Employee Engagement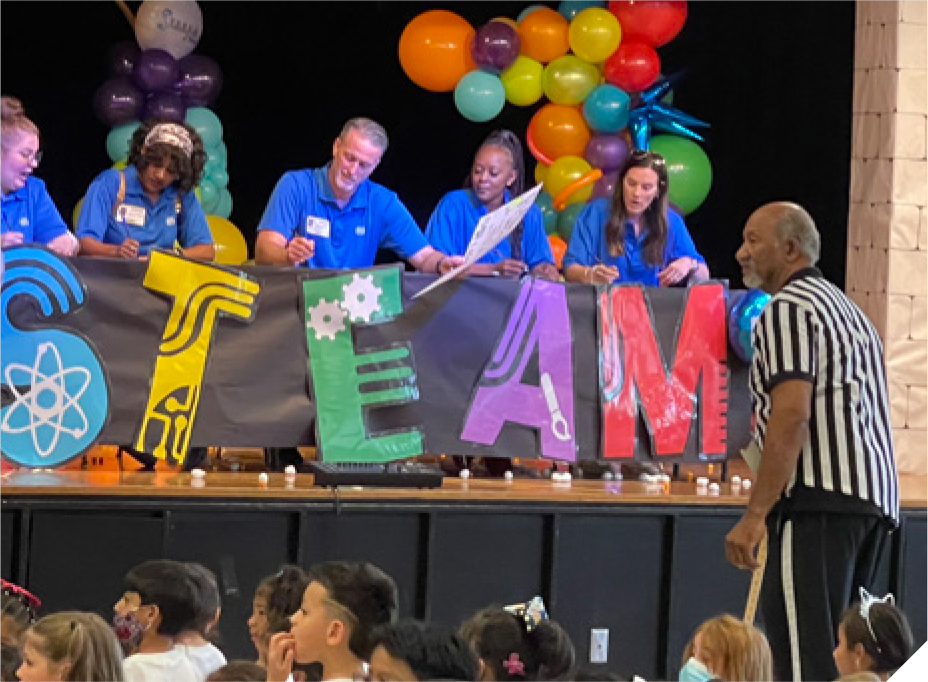 We aim to activate the talent and time of our global network of employees to make a difference where they live, work and play. We encourage our employees to support causes that they believe in, and inspire them to improve the lives of others in their communities.
Some highlights from our employee engagement program include:
Applying our unique skills: PPG employees brought their expertise to bear, including by participating in career panels, mentoring opportunities and volunteering in classrooms to foster a love of STEM. As an example, in Texas, 35 PPG employee volunteers from Aerospace and Architectural Coatings joined partner STREAM Global Innovations for a full day of interactive engineering-related activities at Sam Rayburn STEAM Academy Elementary School. In Brazil, more than 70 employees volunteered with long-standing partner Junior Achievement to help prepare 1,400 students for the workforce by sharing insights on STEM career paths and workplace ethics.
Amplifying our employee efforts: We support PPG employees who are making a positive impact in their community by maximizing their impacts. In 2022, we provided more than $825,000 in matching gifts grants, including donations to 19 partner organizations selected by employees to be a part of our Charity Partner Program in EMEA. Learn more about other employee programs here.
In 2017, we set a goal for 100% of sites to meet the Community Engagement Framework requirements by 2025, which are outlined later in this section. Over the years, PPG sites around the world have consistently improved how they have engaged with their communities, and increasing numbers have met the requirements of the Community Engagement Framework (70% in 2022). We believe that our people are well positioned to build on this strong foundation without necessarily following the structure of the Framework. As such, we will continue to encourage adherence to the Framework and provide tools and resources to help sites accomplish their community engagement activities, but we will no longer report on this goal.
For more detail on these programs and many others, visit our PPG Community website.
---
Data highlights
2022 Giving by Priority Area
| | |
| --- | --- |
| Education | $9,100,000 |
| Community Sustainability | $6,100,000 |
| Employee Engagement | $930,000 |
2022 Community Investments
| | |
| --- | --- |
| Community engagement related marketing | $345,000 |
| Colorful Communities program | $2,500,000 |
| Business unit contributions | $2,000,000 |
| Global giving grants | $2,500,000 |
| PPG Foundation | $8,500,000 |
| Product donations | $295,000 |
| Employee volunteer hours | 25,000 |
---
Our approach to community engagement
Community Engagement Strategy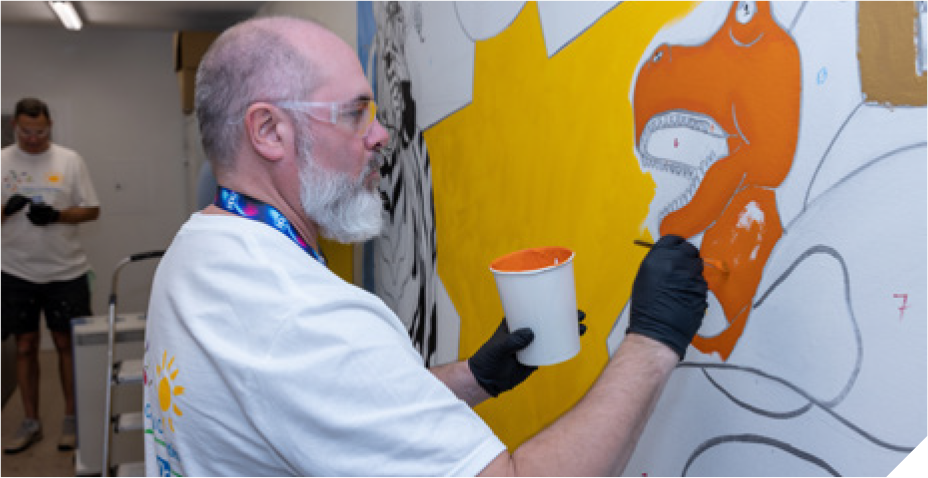 We contribute to communities around the world through the unique talents of our employees and financial contributions from PPG and the PPG Foundation. We align our giving and community engagement resources in powerful ways across three priority areas where we can make the greatest impact:
Education
Community sustainability
Employee engagement
We help students connect with science-related inspiration and advanced learning, providing support at various points of their education continuum. Our funding aims to advance opportunities for STEM learning through engaging, hands-on programming for young students and via vehicles for higher learning.
In all that we do, we integrate and uphold our values of diversity, equity and inclusion. Together with our community partners, employees and investments, we work to support underrepresented groups around the world. Our community engagement support helps elevate Black communities and people of color, veterans, women, LGBTQ+ populations, economically disadvantaged individuals and families, older adults and people with special abilities. We have committed to provide $20 million by 2025 to advance racial equity in the U.S., and are committed to activating our community engagement and grant opportunities through a DE&I lens.
Our Colorful Communities initiative is the centerpiece of our community sustainability efforts. This global program brings PPG paint and volunteers together to transform community spaces in need of a refresh. Since the Colorful Communities program launched in 2015, PPG employees have positively impacted more than 8.2 million people and completed 473 projects in nearly 50 countries. Our research report in 2020, "Exploring the Impact of Color on Classrooms" found that painting classrooms with colors intended to enhance learning can improve classroom experiences and engagement for both students and teachers. As a result, we have focused our efforts to ensure our expertise is supporting positive educational outcomes for students around the world.
Within employee engagement, we provide a wide variety of structured volunteer events, funding opportunities, and systems to support our people and nonprofit partners. We provide matching gifts for our employee donations and additional funding to eligible organizations through our Matching Gifts and GIVE volunteer grant programs. Eligible employees can also access eight hours of paid time off for volunteering per calendar year.
Community Engagement Framework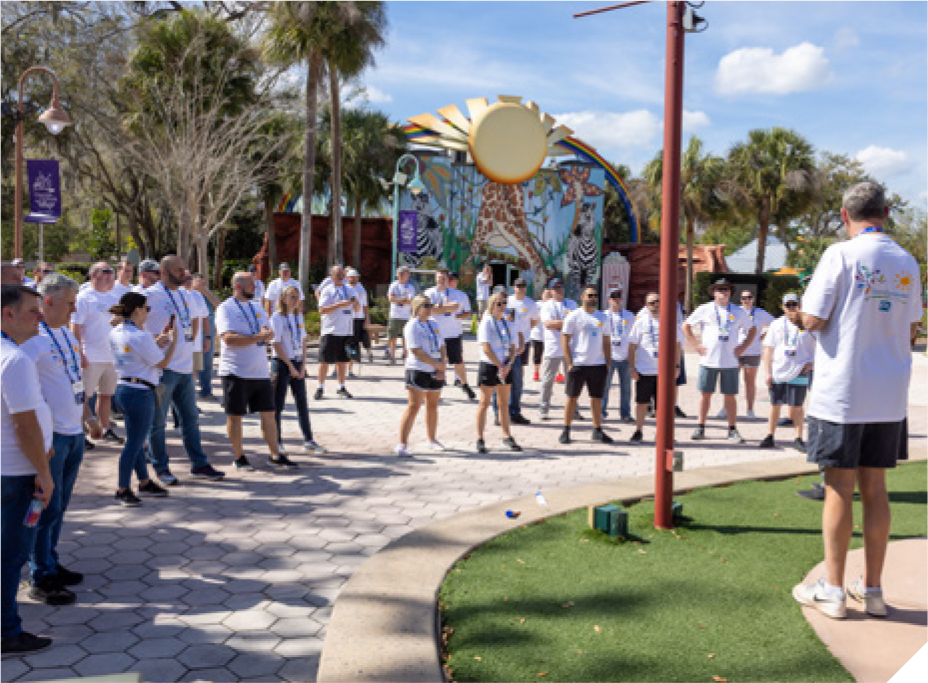 The PPG Community Engagement Framework sets out priority actions for community engagement that our facilities and sites are expected to implement. These actions are designed to develop and maintain relationships with key community constituents, governmental agencies and charitable organizations, as well as encourage employee involvement in our local communities. The framework serves as both a policy document and practical resource for site leaders.
PPG sites are assigned one of four program levels based on their size, type of operations and potential impacts on their local communities. During the year, a site is asked to fulfill certain community engagement actions that align with its corresponding level. For each action, the framework provides suggestions for implementation and resources to assist with execution. Historically, we have surveyed our sites annually to measure the degree to which they implemented the items associated with each program level.
Community Engagement Governance
Our global community engagement strategy is overseen by the executive director of the PPG Foundation and global corporate social responsibility. The executive director also leads grantmaking efforts in the U.S. through the PPG Foundation, with support from internal foundation agents who are based in local communities. Global giving is directed by regional communications leaders in EMEA, Latin America and Asia Pacific. They are supported by local, in-country staff who execute the activities.
The foundation is governed by a board of directors, and global giving is governed by a committee comprised of PPG's CEO and leaders from the legal, human resources, finance and science and technology functions and a business unit leader. Local giving is overseen by PPG leaders in each region, and supported by local, in-country staff.