We are the stewards of our products throughout their life cycle.
We take responsibility for minimizing adverse human health and environmental impacts of our products at every stage of the product life cycle.
Our product stewardship highlights in 2022
22,302
training courses completed on product stewardship topics through our professional development system
147
products have been certified with Environmental Product Declarations (EPDs)
65
total products declared through Health Product Declaration Collaborative (HPDC)
4
product stewardship audits were completed globally
In 2022, we continued to enhance our product stewardship processes and systems. Highlights include:
Realigned our Environmental Health & Safety - Product Stewardship Management System by rewriting our Product Stewardship Implementation Tools (PSITs). PSITs are the core of our management system and were restructured from a series of nine interconnected requirements to four simple documents that summarize the requirements relevant in each phase of the product life cycle (PLC). The new PLC format is better matched with employee responsibilities and is easier for our people to use effectively. Through heightened employee awareness and management leadership and commitment, we can create an organizational culture that reflexively engages in a continuous cycle of self-evaluation, correction and improvement of our operations and processes as it relates to product compliance globally.
Created 17 additional Substance of Interest Scorecards, which track hazards and regulatory requirements. By the end of 2022, we had a total of 180 scorecards tracking 253 substances.
15 new substances added to the Restricted Substances List (RSL). The RSL now includes 1,147 substances that are restricted for all uses, and 390 substances that are restricted for specific uses.
Assessed our products according to the United Nations Globally Harmonized System for Classification and Labeling (UN GHS) for category 1 and/or 2 for hazard warnings on products. Of the products scored globally, 33% were not classified with hazards under UN GHS category 1 or 2, and 75% of the products scored were produced in the EMEA and USCA regions. We consciously choose lower hazards, especially in architectural coatings products due to their heavy use in consumer, commercial and residential projects.
Increased accessibility of product specific carbon footprint information to enable our business teams to collaborate with customers on ways in which PPG can innovate lower carbon solutions for our customers.
Initiated supplier collaborations to assemble lower carbon raw material information to introduce new formulations that are designed according to sustainability principles. Raw materials with alternative renewable feedstocks or recycled content are currently being evaluated for further consideration in our industrial and consumer products. An example of this initiative in action is our Seigneurie® Evolutex® Bas Carbone by PPG, an architectural coating launched in France. The product uses a bio-based binder and has a 20% lower carbon footprint than previous coatings.
Our approach to product stewardship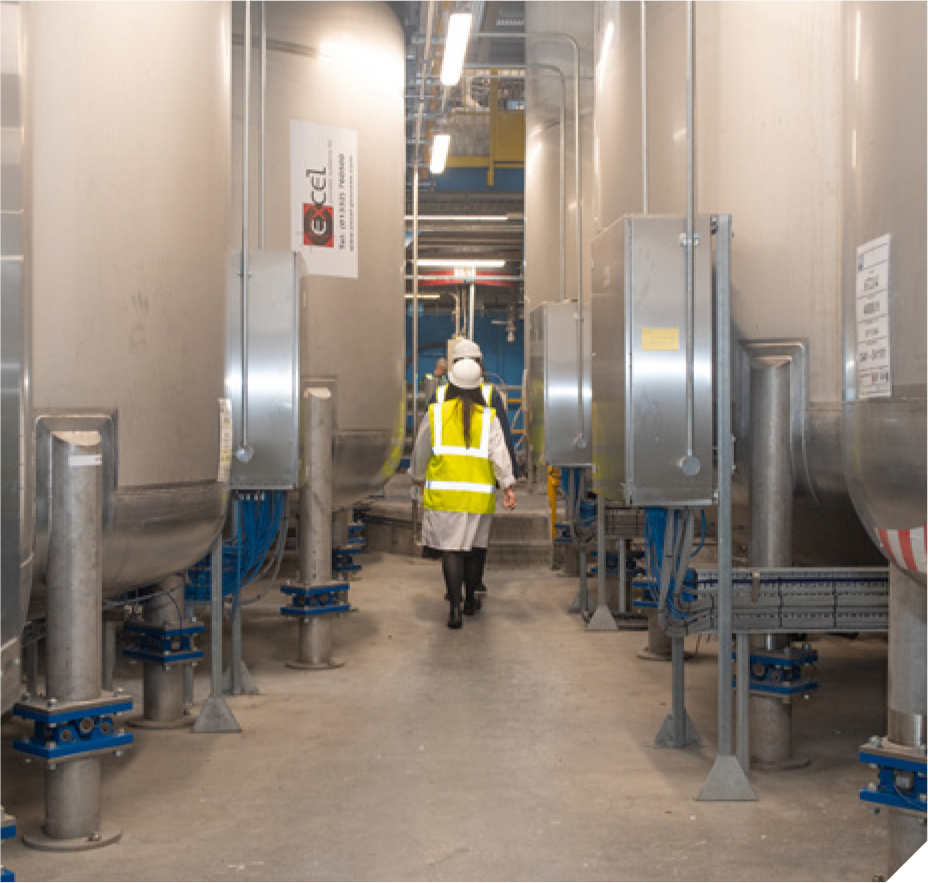 We take a multifaceted approach to product stewardship that covers each stage of the product lifecycle: product development, manufacturing, distribution and customer use and disposal.
Our Product Stewardship organization is a centralized function that provides information, tools and support to employees, customers, regulators and other stakeholders. The organization is made up of three main groups:
Community of Expertise (CoE)
Regional Product Stewardship Operations
Product Stewardship Business Partners
Our CoE groups monitor for regulatory and emerging issues and develop company requirements and tools to support the regional operations teams and business partners. These teams respond directly to internal and external customer inquiries using the tools developed by our CoE. The product stewardship business partners have an intimate knowledge of product portfolios and requirements, and work directly with our businesses to drive business growth through improved product stewardship.
Our product stewardship organization also engages external stakeholders, including government advocacy and trade associations. Learn more in the Stakeholder Engagement section.
Focus areas
Toxicology is an integral component of sustainable product development. We endorse the principles of green toxicology, which describe the application of predictive toxicology in the design, manufacture, use and disposal of new materials and chemicals.

Green toxicology broadly supports green chemistry by providing tools to assess hazards so that more sustainable, less-toxic products can be developed. Green toxicology directly applies to principles 3, 4 and 10 of green chemistry – less hazardous chemical synthesis, designing safer chemicals and design for degradation.

To achieve these goals, chemists must have tools and processes to evaluate hazards. We use validated hazard assessment methods that can be applied early in product development. We use three toxicology processes to evaluate and monitor substances used in our products – Early R&D (ERD) Hazard Screen, Substance of Interest (SOI) Scorecard and PPG RSL. Driven by global, cross-functional committees, these three processes facilitate the monitoring and management of health and environmental risks of raw materials throughout the development and commercialization of our products.
Aluminum is one of the most widely used and recyclable packaging options, and PPG coatings help keep aluminum packaging safe for consumers and enable its infinitely recyclable attributes. State-of-the-art analytical science, risk assessments and computer simulated toxicological assessments support our innovative coating portfolio.

The PPG SAFEASSURE™ program, part of our Packaging Coatings product development process, prescribes stringent protocols for screening starting chemicals and those migrating into food or beverages. It builds a dossier of key information to allow the onward supply chain to conduct appropriate risk assessments and build confidence in food or beverage products released to the market. The PPG SafeAssure program goes beyond the legal compliance requirements for packaging coatings to support the market in demonstrating food safety.

The PPG Global CoE for food contact regulatory compliance aligns with our approach to standardize processes and procedures in support of many of our businesses. For example, the food contact CoE supports the Kitchen and Industrial Bakeware segment within our Industrial Coatings business to obtain food contact compliance on new cookware coatings. The Food Contact CoE also monitors new regulations related to the Green Deal/CSS to ascertain any impacts to the business. The CoE works closely with our research and development teams, the PPG SOI program, the RSL program and other stakeholders.
We review opportunities to reuse residual product that would otherwise be shipped for disposal and increase the use of post-consumer recycled (PCR) plastic in our packaging, ultimately contributing to the circular economy.

We foster partnerships with organizations focused on circularity and waste reduction, including the PAINTCARE™ program in the U.S., ProductCare in Canada, the ECO-PEINTURE™ non-profit in Quebec, and PaintBack in Australia, all of which allow consumers to recycle leftover or unwanted paint. We are exploring additional paint recycling opportunities globally where available.

Some of our architectural coatings product packaging, excluding the handle and lid, contain up to 100% recycled content in the U.S. and in Europe. We are currently testing packaging that uses recycled content for the lid. Learn more in the Waste section.
Coatings are used extensively in the building and construction market for protective and decorative purposes on the building itself and as part of components or machinery installed in the building. We leverage data from our systems to produce declarations that support the requirements of green building schemes. These include the U.S. Green Building Council's Leadership in Energy and Environmental Design (LEED®), Europe's Building Research Establishment Environmental Assessment Methodology (BREEAM®) and the WELL BUILDING STANDARD®. Our life cycle assessment capabilities allow the in-house production of environmental product declarations (EPDs), which declare the environmental impact of the product over its entire life cycle. To support LEED Material Ingredients reporting, we generate Health Product Declarations (HPDs), which outline the substances present and indicate the results of screening these substances against the HPD Priority Hazard Lists and the GREENSCREEN FOR SAFER CHEMICALS®. We also support substance screening and declarations for Cradle-to-Cradle certification of products.

We provide regulatory volatile organic compound (VOC) content data and support in obtaining external emission testing certifications, both of which are part of the green construction programs requirements for identifying products which have a low impact on indoor air quality. As well as supporting the requirements of green construction schemes, these assessments and certifications enable users to make informed choices on the products they choose in relation to the chemicals used, the impact on indoor air quality and the broader environmental impacts. Where PPG coatings are incorporated into products destined for the construction sector, we provide declarations of substance composition and life cycle assessment information of the coatings to support our customers in achieving certifications and declarations of their products required by green building schemes.
Our product stewardship organization creates and implements training for all company stakeholders (technical, marketing, leadership), including a range of optional and assigned training modules on all aspects of product stewardship. Our Product Stewardship Training Matrix identifies more than 45 training elements, and the majority are available on-demand from our Evolve learning platform. Learn more about training at PPG in the Learning and Leadership Development section.
We conduct an annual management review in each of PPG's business units to drive continuous improvement. We benchmark against industry peers, and ensure that any critical gaps are closed by a robust action plan. We supplement this peer review with compliance assurance audits that focus on key business risks. All businesses are audited on a three- to five-year cycle.
We have built our product stewardship resources over many years, and we continue to evolve to meet changing business needs.
Product Stewardship Pulse (PS Pulse) is our central product stewardship workflow tool. PS Pulse is a collaborative site for PPG users to submit requests to members of the product stewardship teams and escalate requests based on level of expertise required for response. PS Pulse also serves as a central location for self-help materials education on various product stewardship topics.
Our Chemist's EHS Toolbox is a resource on our intranet making it easy for users to access the right product stewardship tools. The Chemist's EHS Toolbox offers a roadmap of resources for chemists and formulators to support product stewardship needs at every level of product development – from new raw material introduction to formulation or use changes in existing products. The toolbox makes it easy for our technical community to understand regulatory compliance requirements. Chemists use the toolbox to determine if their formulation is compliant for shipment to a particular country, find whether a substance in the formulation will likely be deselected from the marketplace and identify those substances that require hazard warnings on a safety data sheet and label.
Our centralized Global Product Stewardship (GPS) system manages the data required to author hazard communication documents.

The Globally Harmonized System for Classification and Labeling (GHS), an internationally agreed-upon standard managed by the United Nations, classifies substances for health, physical and environmental hazards. In accordance with GHS classification principles, we use a global hazard evaluation (GHE) process to assess and review 100% of our raw materials prior to them being used to safely manufacture our products and before we develop safety data sheets (SDS) and labels. Our GHE process reviews a raw material's impact on human health, physical and chemical properties, environmental impact and compliance with global regulations and PPG policies. Each PPG product formula is automatically transferred to our GPS system, which then provides a GHS-compliant SDS and a hazard warning label. These SDS and labels are available in many languages and meet the regulations of the more than 70 countries where we do business.

We leverage the GPS data to support many other compliance and customer requirements. These include chemical inventory, PPG and customer restricted substances lists, and customer requests to support their sustainability programs. Using global data allows us to quickly respond to customers and identify any potentially problematic or concerning substances. The system is used frequently throughout PPG, including by product stewardship, product development, supply chain, manufacturing and marketing.
The SDS Transmission and Notification (STAN) system is our automated email distribution for SDS based on customer orders for our products around the world. STAN supports region-specific SDS distribution while offering increased functionality. This includes the ability to distribute an SDS for non-PPG manufactured products, automated distribution for the latest SDS after a major version change, and distribution of an SDS to multiple email addresses for customers.
In parallel to our GPS system, we maintain a simple-to-use matrix that details regulatory requirements for all countries where we do business. This is supported by detailed procedures for compliance, including customer use requirements. Examples include food contact, restriction of hazardous substances (RoHS), VOC emissions and items intended for use by children.

Our emerging issues tool helps us stay up to date on compliance and other regulatory issues. The tool helps us anticipate regulatory and non-regulatory concerns to capitalize on business opportunities while driving early compliance with regulations.

When we receive inquiries from customers, non-governmental organizations (NGOs) or agencies, or when social interest is detected, PPG employees can enter an issue in our emerging issues tool for review. Members of the EHS Product Stewardship team analyze the issues to determine its risk and potential impact on PPG. From there, the team develops a monitoring or action plan that may include advocacy with trade associations or governmental agencies. Plans can also include business, technical or manufacturing activities to help PPG maintain compliance or explore new business concepts. For high impact issues, we have implemented strategic management plans to reduce impacts to PPG related to substance deselection, regulatory changes and end-use restrictions.

Continuous monitoring of emerging issues and global regulatory changes is part of our standard business planning process. Alongside a project management process to implement changes to our compliance procedures, the use of our emerging issues tool helps avoid business interruptions.
We support global efforts to reduce animal testing, as described further in our animal welfare policy on ppg.com.
To ensure we remain in compliance with applicable regulations, we maintain a robust central management system for notifications to regulatory authorities, including those that oversee Registration, Evaluation, Authorization and Restriction of Chemicals in Europe (EU-REACH) and the Classification, Labelling and Packaging (CLP) Regulation.

Much of our technical leadership is based on the development of polymers. Our regulatory team works closely with our polymer chemists, advising them on the design of polymers for regulatory compliance and providing support at all stages of the development process. This early involvement allows us to complete the registration process in any of the countries that require polymer notification well ahead of product launch, enabling us to get our products in-market faster.
During a new product's R&D phase, we assess the hazard of raw materials and potential byproducts using a hazard screen process. Following a product's commercialization, we may develop a SOI Scorecard incorporating this assessment and any new hazard information to further guide our businesses.

SOI Scorecards include a visual for forecasting the hazards, regulatory status and stakeholder concerns for substances that are critical to our businesses. Their purpose is to guide responsible use and handling of any potentially hazardous materials. We update our SOI Scorecards with new regulatory, scientific and market developments. When updated, we review substances for placement on the PPG Restricted Substances List (RSL). Linking the two processes enables our technical community to begin the process of product reformulation prior to the inclusion of a substance on the PPG RSL.
The PPG RSL establishes our current requirements for and restrictions on the use of certain hazardous substances in our products. PPG's RSL Program is based on the principle of addressing the health and environmental risks of substances that we use, produce and sell. We identify substances for inclusion on PPG's RSL based on international conventions, country-specific requirements and substance-specific information. When substances are added to PPG's RSL, a target date for restriction or prohibition is established and the affected businesses work to eliminate the substances prior to the target date. Progress towards the target date is tracked at least twice per year.

PPG's RSL applies to all PPG products globally, including those sold in geographies that do not have chemical regulation programs. PPG's RSL Program evaluates substances for addition to the list and regularly incorporates information about substances already on the list. We conduct assessments of our RSL Program at least twice per year to ensure that it is being implemented in all of our businesses globally.

PPG's RSL includes all substances covered by the Stockholm Convention on Persistent Organic Pollutants and industrial substances on the Rotterdam Convention Prior Informed Consent (PIC) list. Since PPG's RSL is applied to all PPG products globally, even in areas of the world where there are no chemical regulation programs, it goes beyond regulatory compliance.

The elimination of lead as an intentionally added ingredient in any PPG products is an example of PPG's RSL Program in action. For many years, lead has not been intentionally added to any of PPG's consumer products and in 2019, we achieved our goal of eliminating lead from all non-consumer products. PPG's non-consumer products contained lead as an intentionally added ingredient solely to meet the unique specifications of PPG's customers. Over the course of several years, PPG worked with those customers to develop alternative formulations that do not contain lead but achieve the same performance characteristics. We are now focusing on ensuring that lead is not used as an intentionally added ingredient in new products developed, as well as products that are added to PPG's portfolio through acquisitions.
A life cycle assessment (LCA) is a recognized method for assessing the environmental and human health impact of products – from the extraction of raw materials to the disposal of a product at the end of its useful life. An LCA covers a wide range of environmental and human health impacts, including most commonly reported impact categories such as climate change, measured by kg CO2 equivalent per functional unit.

PPG's Product Sustainability (PS) CoE serves all businesses globally, facilitating rigorous calculation of the environmental and human health impact of our products. The CoE is focused on increasing LCA/Product Sustainability assessment capabilities at the corporate level, through our R&D community and in our business units.

At the corporate level, the PS CoE engages with multiple software vendors and explores new tools to enable the automation of life recycle assessments for our large portfolio of products, such as an automated LCA tool that can be integrated with everyday business processes and report LCA information at the product level to our customers. As the chemical industry faces increasing demand for product-specific LCA information along a company's value chain, PPG strives to become an early adopter to apply state-of-the-art system solutions that enhance product sustainability.

The PS CoE supports PPG's R&D community to understand a product's environmental and human health impacts during the product development stage. Our recipe screening tool makes it easy for users to assess a formulation's environmental and human health impacts. Product developers can enter up to four formulations into the application and compare the life cycle impact across important environmental and human health indicators. They can integrate life cycle analysis into their product design and choose a product formulation with the lowest life cycle impact.

The PS CoE also supports our businesses to quantify a product's life cycle benefits attributable to customer operations or customer use of our products. This insight enhances our development of sustainably advantaged products and avoids shifting environmental burdens to other parts of the value chain. The PS CoE's core capabilities related to customer support include generating Environmental Product Declarations (EPD) and Health Product Declarations (HPD). Our EPDs and HPDs are used to support our customers' sustainability efforts around the globe.