The most important PPG core value is the safety and health of all employees.
We seek to ensure that our employees and contractors watch out for one another and return home safely each and every day.
Our safety and health highlights in 2022
Goal: 5%
To ensure progress against our goal of zero injuries, we strive to achieve an improvement of at least 5% per year in our injury and illness rate.
Achieved: 0.7%
Achieved an annual I&I reduction rate of 0.7% compared to the 2017 baseline
229
PPG ERGO CUP® submissions
58
sites covered by ISO 14001 integrated global certificate
60
sites audited for compliance with EHS management system, other PPG requirements and government regulations
As a result of our continued focus on safety and health, we experienced no fatalities of PPG employees or PPG supervised contractors in 2022.
Despite improvements at individual sites, our overall PPG illness and injury (I&I) rate increased in 2022 from 0.26 to 0.30. The increase was primarily driven by a few legacy sites and our recent acquisitions. These acquisitions include sites with higher injury and illness rates than the PPG average. We begin measuring PPG I&I rates from the date of acquisition, and do not recalculate our baseline to include new sites. As we implement our EHS management system at the recently acquired sites, we expect injury and illness rates to decrease in line with the rest of our business. As an example, following PPG's acquisition of COMEX® in 2014, we saw a 95% reduction in their I&I rate.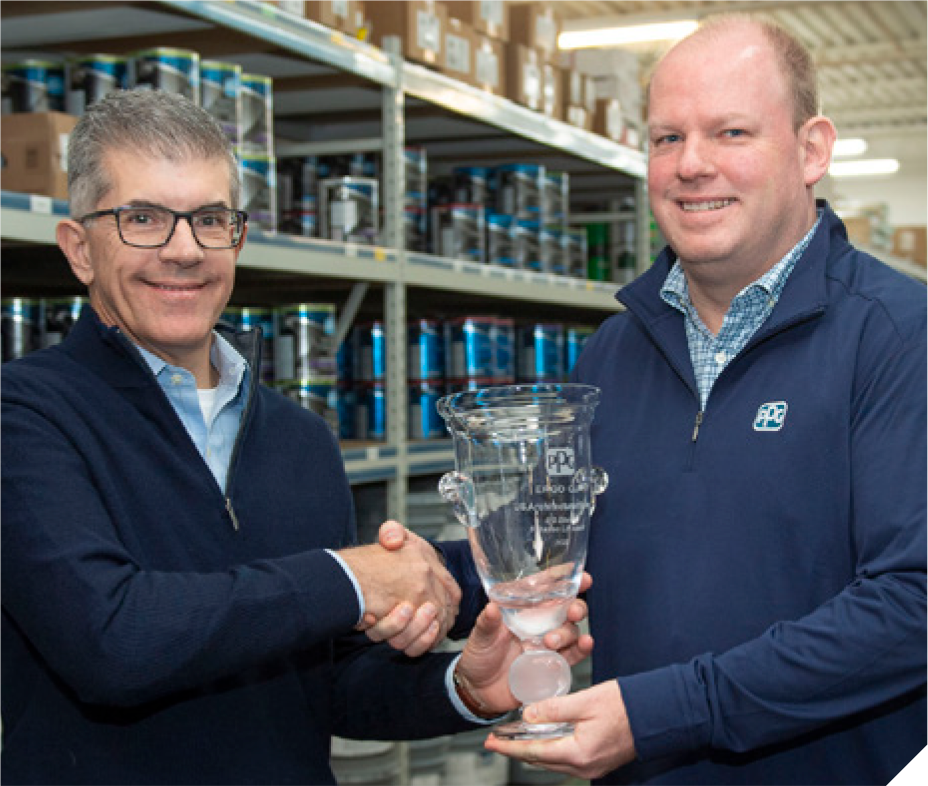 In 2022, we had 0.18 Tier I and 0.09 Tier II process safety incidents per one million hours worked. Around 48% of the 2022 incidents were primarily caused by human error, which we resolved by making procedural and system changes. A little over 25% of the incidents resulted from malfunctioning equipment while around 19% of incidents were caused by improperly designed equipment. These incidents were resolved by modifying inspection programs, reviewing equipment design, and repairing or replacing inadequate equipment.
We have expanded our approach to measuring the EHS culture at every PPG site over the past year. We added a safety index to our Gallup pulse surveys in 2022, which measures engagement of our employees in EHS processes. We are using this information, in combination with progress in advancing leading safety indicator performance measured at each of our sites, to create an EHS culture maturity index. Each of our sites will be assigned a score that shows how much progress they have made in implementing the PPG EHS management system and how well they are fostering an EHS culture. We are planning to roll out the index in 2023.
Other key highlights from our work in 2022 include:
Industrial hygiene: In 2022, we completed an upgrade to our industrial hygiene software across all of our sites. The new system helps PPG more efficiently manage potential environmental hazards to which PPG employees and contractors could be exposed through their work.
Human and Organizational Performance (HOP) Program: We launched our HOP program at 20 additional sites in 2022. The HOP program is aimed at reducing manufacturing process errors, which may result in impacts on product quality or staff injuries. While many HOP principles are used at our sites globally, at year's end, more than 45 sites globally executed a full HOP implementation to teach employees how to predict, prevent and identify system improvement opportunities that could otherwise result in errors. Approximately 13,646 employees were engaged in the HOP implementations.
Injury prevention: We re-launched several injury prevention training programs in 2022 that had been impacted by the COVID-19 pandemic, including behind-the-wheel driver safety training for new employees, classroom training in large groups and rapid improvement workshops aimed at improving adherence to the implementation of our EHS management system. We also launched an enhanced, multimedia training program to help our store employees avoid strains and sprains.
Smart driving: We started to test a new mobile phone application in the U.S. that uses a cell phone's built-in accelerometer to measure factors of unsafe driving such as hard braking, fast acceleration, hard turns and more. The application provides PPG drivers with constructive feedback after each trip to help them drive more safely.
Safety and Health Awards: We presented PPG Safety and Health Awards to 39 sites in 2022 as part of our overall Sustainability Awards program. Safety and Health awards are given to our facilities that achieve excellent safety and health performance through the implementation of our EHS management system. The award criteria include both overall performance scores and leading indicators which illustrate that all elements of the PPG EHS management system are implemented well.
PPG Ergo Cup Awards: Out of 229 global nominations, our Architectural Coatings team earned the 2022 PPG Ergo Cup Award for the development of a 5-gallon pail lift assist system. The simple device helps to address significant ergonomic risks associated with moving 5-gallon paint pails – which typically weight approximately 50 pounds – by reducing stress and strain on the back and shoulders. Historically, these types of injuries have contributed to the leading cause of injuries throughout our global operation. Following its development, the system has been installed in 40 stores in the U.S. and Canada with plans to expand to all sites.
---
Multi-year data highlights
Global health and safety performance
Employees and supervised workers
| | | | | | | |
| --- | --- | --- | --- | --- | --- | --- |
| | Fatalities Number | Fatalities Rate | PPG injury and illness rate | Total recordable incident rate | Lost workday rate | Occupational disease rate |
| 2022 | 0 | 0 | 0.30 | 1.45 | 0.59 | 0.40 |
| 2021 | 0 | 0 | 0.26 | 1.14 | 0.82 | 0.17 |
| 2020 | 0 | 0 | 0.26 | 0.99 | 0.37 | 0.12 |
| 2019 | 0 | 0 | 0.32 | 1.29 | 0.47 | 0.15 |
| 2018 | 1 | 0.0019 | 0.27 | 1.25 | 0.85 | 0.09 |
The fatality rate is the number of fatalities multiplied by 200,000 and divided by the number of work hours. A PPG injury and illness (I&I) is defined as an injury or illness that is significant enough that it is unlikely to go unreported, regardless of the reporting culture in the region or site. PPG I&Is include fatalities, fractures, surgeries, hospitalizations, 30 or more days of lost work and other similar criteria. The PPG I&I rate is the number of injuries and illnesses that meet this definition multiplied by 200,000 and divided by the number of work hours. Total recordable incident rate is the number of Occupational Safety and Health Administration (OSHA) recordable injuries multiplied by 200,000 and divided by the number of work hours. Lost workday rate is the number of injuries and illness that resulted in days away from work or restricted activity multiplied by 200,000 and divided by the number of work hours. Occupational disease rate is the number of illnesses multiplied by 200,000 and divided by the number of work hours.
2022 health and safety performance by region
Employees and supervised workers
| | | | | | |
| --- | --- | --- | --- | --- | --- |
| | Fatalities | PPG injury and illness rate | Total recordable incident rate | Lost workday rate | Occupational disease rate |
| Asia Pacific | 0 | 0.18 | 0.90 | 0.60 | 0.38 |
| Europe, Middle East and Africa | 0 | 0.18 | 0.91 | 0.70 | 0.11 |
| Latin America | 0 | 0.05 | 0.74 | 0.05 | 0.50 |
| North America | 0 | 0.64 | 2.66 | 0.81 | 0.62 |
| Global | 0 | 0.30 | 1.45 | 0.59 | 0.40 |
2022 contractor health and safety performance by region
| | | | | | |
| --- | --- | --- | --- | --- | --- |
| | Fatalities | PPG injury and illness rate | Total recordable incident rate | Lost workday rate | Occupational disease rate |
| Asia Pacific | 1 | 0.20 | 0.60 | 0.30 | 0.10 |
| Europe, Middle East and Africa | 0 | 0.39 | 0.91 | 0.26 | 0.00 |
| Latin America | 0 | 0.97 | 2.13 | 0.39 | 0.00 |
| North America | 0 | 1.14 | 2.67 | 0.00 | 0.00 |
| Global | 1 | 0.51 | 1.21 | 0.27 | 0.04 |
Fatality was a non PPG supervised contractor
Process safety performance
Per million hours worked
| | | | | |
| --- | --- | --- | --- | --- |
| | Number of tier one incidents | Tier one incidents per million hours worked | Process safety total incident rate | Process safety incident severity rate |
| 2022 | 21 | 0.18 | 0.27 | 1.19 |
| 2021 | 5 | 0.04 | 0.06 | 0.09 |
| 2020 | 13 | 0.02 | 0.07 | 0.07 |
Process safety total incident rate is the number of incidents multiplied by 1,000,000 and divided by the total annual hours worked by employees, contractors and subcontractors. Process safety incident severity rate is the total severity score for all process safety incidents multiplied by 1,000,000 and divided by the total annual hours worked by employees, contractors and subcontractors.
Please see the data index section for a list of our process safety incidents in 2022.
---
Our approach to safety and health
EHS Management System
We implement our EHS policy globally using the PPG EHS management system, which was developed in accordance with Coatings Care, Responsible Care and ISO standards. The system addresses all personnel, including contractors who work at PPG-owned and operated facilities, as well as PPG employees working in third-party facilities. Our 12 EHS elements form the cornerstone of the management system and contain underlying principles and defined requirements.
We hold an ISO 14001 integrated global certificate, which covers 58 sites. Many of our sites are also certified to the standard for their location-level management systems.
Our EHS management system requires all locations to evaluate compliance with PPG and other requirements through assigned self-assessment tools and the completion of risk assessments, including job safety analyses, process hazard analyses and chemical risk assessments. These assessments must be conducted by experienced personnel, including experts outside of PPG, when appropriate.
Our EHS management system also establishes a clear expectation that all employees actively participate in the implementation of the EHS management system and be engaged in the EHS implementation process, through interactions such as peer-to-peer observations and membership in focus teams that are dedicated to implementing or improving aspects of the EHS management system.
We use a global electronic data management system for all EHS incidents. This EHS data system includes a suite of modules to streamline the collection, tracking and dissemination of information related to life-critical requirements.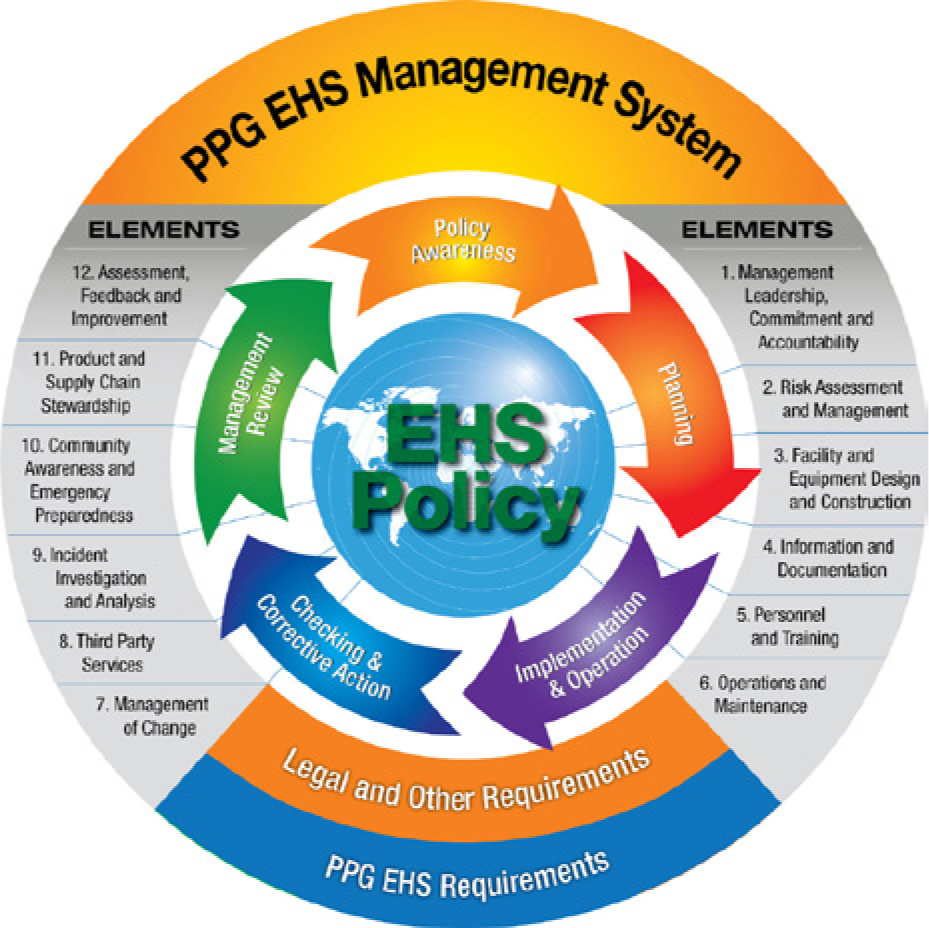 Process Safety
PPG's global EHS management system includes elements of process safety management. This approach provides a consistent set of requirements to all facilities globally in addition to any applicable regulatory requirements.
When process safety incidents occur, the PPG team works to contain any impact to the surrounding environment and thoroughly investigates the incident to determine the root cause. The team ensures corrective actions are applied systematically in response to each incident, which may include redesigning processes, modifying maintenance methods, working with our suppliers to improve equipment, or standardizing procedures and training employees to utilize HOP principles. We analyze incidents across the business each year to identify common causes. The analysis is used to identify improved methods and training to enhance our performance.
We recognize the importance of training our workforce to strengthen our culture of safety and health, and drive risk recognition and accountability at all levels of the organization. Plant managers and operations directors globally are trained to recognize the importance of a strong process safety culture and understand and abide by PPG's requirements for process safety. Through training courses, managers also assess the process safety culture of their sites. Our training courses offer pre-work and interactive in-class activities to understand regulatory standards, process safety management requirements and recognition elements, and tools to sustain a healthy process safety culture.
Preventing injury and illness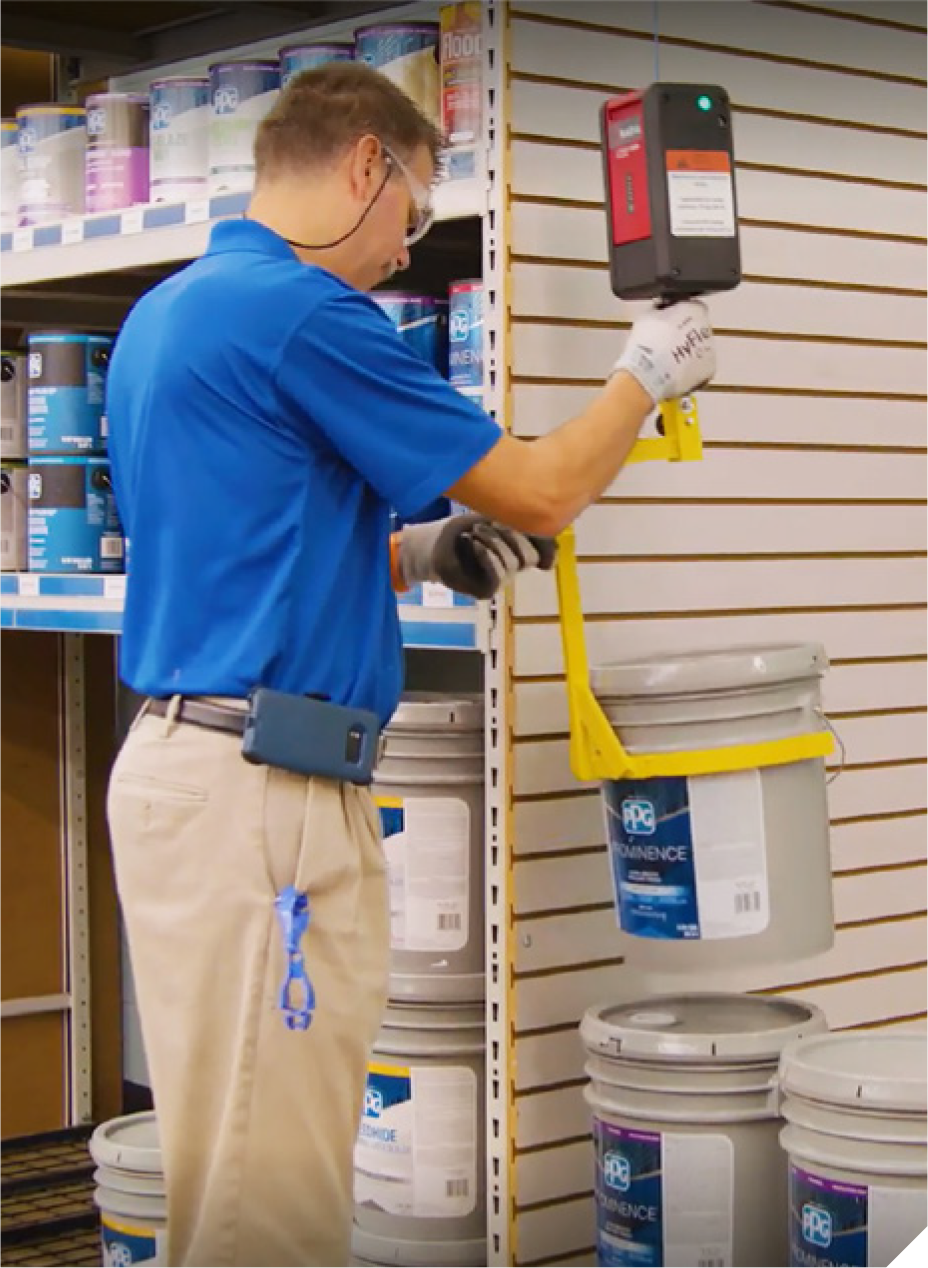 PPG tracks injuries and illnesses according to PPG's internal standard and according to U.S. Occupational Safety and Health Administration (OSHA) requirements. We also initiated tracking incidents according to the ASTM E2920-19 record-keeping standard, which allows PPG to easily benchmark performance against peer companies. While our injury and illness rate is relatively low compared to the majority of companies we have benchmarked, we do have opportunities for improvement, specifically in the areas of slips, trips, falls and ergonomics.
Our EHS data system provides the tools to identify, report, record and investigate incidents, analyze root causes and trends, correct deficiencies and share and adopt relevant lessons learned.
Historically, motor vehicle accidents are one of our injury risks with highest severity. PPG offers driver safety training and education programs in every country in which we operate to ensure our team members have the tools and resources to effectively manage this risk. Training includes driving coaching for new employees, classroom training in large groups and rapid improvement workshops. We also ensure that all company vehicles have excellent crash ratings, and we invest in advanced safety features such as collision-avoidance systems and backup cameras. Learn more in the Transportation section.
Strains and sprains are a frequent injury occurrence among our employees. In addition to regular training and monthly knowledge sharing sessions, PPG has held an annual ERGO CUP® competition since 2004 which recognizes initiatives that minimize or eliminate ergonomic risks in our operations. Projects are submitted from all business units and functions across PPG. Winners are determined from each business unit, and an annual, global winner is selected. Top entries compete in a national ERGO CUP® competition presented by the Institute of Industrial and System Engineers.
Safety 365, which is PPG's safety awareness initiative, continues to empower our employees to keep safety as an important focus every day and to speak up if they see something that could be made safer. The program centers around a monthly safety theme that is supplemented with weekly tips, which are reviewed at all levels of the organization for application regardless of location or activity.
In addition, we are working to implement Human and Organization Performance (HOP) tools at our locations. HOP tools teach employees how to predict, prevent, and manage errors that could result in injury, including:
A focus on high-risk tasks with a pre-task brief
Stop and seek help as a tool when one is unsure of an activity in which they are to engage
Three-part communication to increase effectiveness
Procedure writing enhancements and step-by-step procedure adherence
Verbalize, point and touch as a tool to be used in conjunction with Walk-the-Line processes aimed at reducing spills and releases
A HOP maturity matrix has been developed and will be incorporated into PPG's standardized site scorecard in 2023. This scorecard includes both leading and lagging EHS indicators, and each site must use a risk prioritization tool annually to rank 80 EHS aspects and incorporate the top aspects into the following year's site work plan.
COVID-19 Response
PPG has enacted enhanced protocols to manage our business in the constantly evolving environment created by COVID-19. We implemented proven, safe operating processes based on local community data, and have provided ongoing guidance to facilities and employees across the organization to ensure they are compliant with local guidance. Across our operations, we have implemented best practice hygiene techniques, altered our processes to enable social distancing, and launched systems to track employees affected by COVID-19. Where possible, we have introduced tools and policies that enable our people to work more flexibly, including working remotely and staggering shifts and breaks.
PPG products continue to play an essential role in a variety of industries' pandemic responses. Our paints, coatings and specialty materials help create life-critical products for the healthcare, defense, food and beverage, hygiene, agriculture, energy, public works and electronics industries, among others.
Industrial Hygiene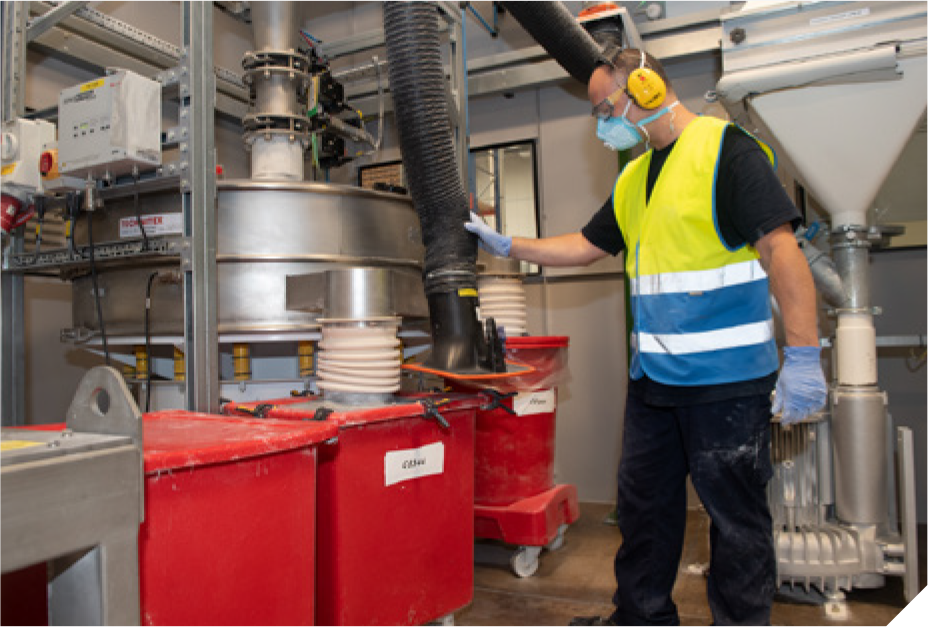 PPG protects the health of all employees and supervised contractors through our comprehensive industrial hygiene program, which has been in place for more than 50 years. The program centers on the anticipation, recognition, evaluation and control of long-term (chronic) and acute occupational health risks.
PPG employs credentialed toxicologists and industrial hygienists to oversee all aspects of our global program, and we continually improve it as knowledge of potential hazards and risk-control processes evolve. We use formal processes to identify potential occupational health hazards by reviewing and analyzing information provided by suppliers of raw materials used in our manufacturing processes, as well as publicly available scientific literature. We also regularly review changes to published exposure limits from suppliers, governmental bodies and organizations, such as the American Conference of Governmental Industrial Hygienists (ACGIH), to determine the basis for assessing exposure to chemical substances. We use exposure-limit changes and risk assessments of process tasks to define annual exposure monitoring plans for each manufacturing location.
PPG's manufacturing facilities are required to assess exposures to a defined list of substances and tasks where potential health risks are presented. We evaluate the results of these assessments to identify the need for improvements in manufacturing processes, facilities, training, personal protective equipment and medical surveillance.
PPG also works to eliminate substances of concern from our products and processes. Additional information can be found in the Product Stewardship section. Our internal industrial hygiene laboratory analyzes air monitoring samples and is accredited by the American Industrial Hygiene Association (AIHA). We also use contract laboratories accredited by AIHA or applicable national governmental bodies. We maintain exposure measurement results in a centralized data management system used by our operations teams globally. This system tracks compliance with the annual sampling plans, results relative to applicable exposure limits and implementation of any corrective actions necessary to reduce exposures.
Integrating acquisitions
When new facilities or companies join PPG through an acquisition, PPG's EHS and Product Stewardship teams deploy a due diligence and integration process, viewed as a best practices, to ensure alignment with and adoption of PPG EHS standards and PPG's EHS management system. Prior to the purchase of an acquisition, the PPG team begins a regimented, four-phase due diligence and integration process to evaluate the acquired company's EHS and product stewardship compliance practices as well as their EHS maturity. We conduct an initial assessment within 60 days of an acquisition and provide scores to the site teams to help prioritize gaps between their performance and the expectations defined by the PPG EHS management system.
From the initial assessment and after the purchase, a detailed action plan is developed to address any deficiencies to PPG's EHS management system and related programs. The implementation of the action plan generally spans 24 months, with priority placed on regulatory compliance and key risk management topics. At the end of the 24-month period, the acquired operations undergo a corporate EHS audit to validate the integration plan effectiveness and verify compliance with any identified regulatory gaps. After the first audit, new operations are incorporated into the corporate audit cycle based on their risk profile and EHS and product stewardship metrics performance. As part of the acquisition integration and ongoing corporate audit process, we identify and monitor the need for capital expenditures to improve compliance and reduce risks.
PPG maintains an oversight audit plan conducted as part of our Corporate Compliance Assurance Program. Each of these efforts promotes a continuous improvement process to protect employees, our communities, customers and the environment and to achieve mature EHS performance levels.
EHS Governance and Oversight
To ensure the requirements in the PPG EHS management system remain effective in protecting our employees and the communities in which we operate and to ensure they comply with current regulations while incorporating evolving best practices from our facilities, we have established more than 70 topic teams. Each team focuses on a specific requirement, with an expectation for the team to meet at least two times per year. An internal subject matter expert leads each topic team, which comprises permanent members from each region to maintain engagement with the site subject matter champions. Ad hoc members are added to develop and provide additional subject matter expertise.
The PPG EHS management system requires each of our locations to have an active EHS leadership team that provides oversight, governs decisions and drives continuous improvement regarding the implementation of the EHS management system and other PPG and legal requirements. This team is expected to be led by top management, such as business leaders and the plant manager, and have cross-functional membership that includes the location's leadership team, department representation and hourly employees. Ultimately, this team meets either on a monthly or quarterly basis to shape necessary plans and take required actions to realize our EHS policies and principles.
Our internal organizational structure includes EHS directors in all four major regions in which PPG operates. This organization ensures that our EHS approach is consistent across our operations. The regional directors, key business EHS directors and global center of excellence directors are charged to continuously advance PPG's EHS expertise and implement our global EHS management system consistently and efficiently. These directors report to our vice president of EHS, who has ultimate oversight.
Key leading and lagging indicators of our EHS performance are distributed throughout PPG using a Power BI dashboard. The Operating Committee, Sustainability and Innovation Committee of the PPG Board of Directors, and the PPG Board of Directors regularly reviews EHS data.
Customer Health and Safety
PPG's commitment to health and safety extends to our customers. Our products are not only manufactured safely in our facilities, but also transported, used and disposed of safely by our customers. Safe use and disposal instructions and safety data sheets are available for all products. Our product stewardship and technical experts are also available to provide consultation on safe product use and disposal. We also have longstanding partnerships with organizations focused on circularity and waste reduction. To learn more, visit our Product Stewardship section.