We actively engage with internal and external stakeholders to understand the most important issues impacting our company, industry and the communities where we operate. We consider a stakeholder to be any individual or entity who can affect or be affected by our actions, objectives and policies.
Each of our locations, businesses and functions is expected to engage its stakeholders effectively and on an ongoing basis. In this section, we explain how we establish and maintain productive relationships with our key stakeholder groups, and the key engagement topics.
PPG Engagement Strategy
Typical engagement activities:

Company wide CEO, business unit and site specific employee town hall meetings
Video and email messages and informal question-and-answer sessions with leaders
Daily intranet articles, employee magazines and regional publications
Global employee engagement surveys and initiatives
Training and development programs
Human Resources Service Center
Family-inclusive activities, such as open houses
Employee resource networks and diversity-focused engagement events
Connections with employees through social media channels
Wellness programs
Dispute-resolution programs
Open-door programs
Collective bargaining
Quality programs
Recognition events
Typical engagement activities:

Ongoing relationship building
Strategic account management interaction
Trade shows and online events
Connections and updates through social media channels
Industry gatherings
Technical and application support
Training sessions and workshops
Company-owned stores
Broad distribution channels
Customer service call centers
Advertising and marketing communications
Typical engagement activities:

One-on-one meetings
Connections and updates through social media channels
Industry and trade group involvement
Corrective Action Incident Reporting quality communication
Typical engagement activities:

Quarterly earnings announcements, conference calls and presentation materials
Annual meeting of shareholders
PPG Industry Deep Dive Presentation
Presentations by PPG executives at financial and industry conferences
One-on-one meetings
Annual publication of detailed information about our corporate governance and executive compensation program in our Proxy Statement [Design note: link to proxy statement]
Annual ESG outreach meetings with investors
Annual publication of ESG Report
Typical engagement activities:

Activities reported to select federal agencies
Visits with elected officials and agencies and international government officials
PPG's employee political action committee (PAC)
Industry and trade association involvement
Plant tours and site visits for government officials
Typical engagement activities:

PPG Colorful Communities Program
PPG Foundation grants and charitable donations
Employee volunteering and giving programs
Global giving programs (Asia Pacific; Europe, Middle East and Africa; and Latin America)
China corporate social responsibility committee and program
Canadian charitable contributions and employee programs
Disaster response
One-on-one meetings and site visits
Sponsorships
News releases and earned media coverage
Family programs
Typical Engagement Activities

PPG Colorful Communities program
Charitable giving programs
Site visits by community emergency services
Local sponsorships
Public education support and interaction
Community boards
Open houses
Community meetings and events
Community volunteerism
Community steering committees
Local media relations
Industrial park membership
Community advisory panels
Hazardous waste collection events
Chamber of commerce memberships
State or city industrial association memberships
Permit hearings
Key topics raised 2022
Topic: Attracting and retaining talent

Response: We continue to invest in learning and leadership development to give our employees the knowledge and tools to be engaged at every stage of their careers. Learn more in the People Overview, Learning and Leadership Development and Engagement sections.

Topic: Diversity, equity and inclusion (DE&I)

Response: Our DE&I vision, structure and commitments guide our DE&I focus across the company. We continue to make progress against our goals and disclose comprehensive diversity data about our workforce. Learn more in the Diversity, equity and inclusion section.

Topic: Safety and health

Response: The safety and health of our employees is our most important core value. We are creating a global culture of safety and health, where our people and their families can prioritize mental and physical well-being. Learn more in the Safety and Health and Wellness sections.
Topic: Decarbonizing PPG operations, supply chain and customer emissions

Response: While we've had an ongoing focus and goals for emission reduction in scope 1 and 2, in early 2022, we furthered our efforts and committed to setting near-term company-wide emission reductions targets through the Science Based Targets initiative (SBTi). We have submitted targets to the SBTi for approval, which cover our direct (scope 1), indirect (scope 2) and value chain (scope 3) emissions. Learn more in the Emissions section.

Topic: Sustainability across the value chain

Response: We expect our suppliers and their subcontractors to fully comply with all applicable laws and to adhere to internationally recognized environmental, social and governance criteria. Learn more in the Supplier Sustainability section.

Topic: Environmental impacts

Response: We take a multifaceted approach to product stewardship that covers each stage of the product lifecycle: product development, manufacturing, distribution and customer use and disposal. By the end of 2022, we had a total of 180 scorecards tracking 253 substances of interest. Our restricted substances list includes 1,147 substances that are restricted for all uses, and 390 substances that are restricted for specific uses. Learn more in the Product Stewardship section.

We are having continued discussions with raw material suppliers to identify potential high carbon emitting raw materials, partnering with these suppliers to identify more sustainable options.
Topics: Shareholder returns

Response: Despite the challenges presented throughout 2022, our net sales totaled approximately $17.7 billion. We continued our legacy of returning cash to shareholders by extending our consecutive annual dividend payments to 123 years, including raising our annual dividend payout for the 51st successive year. Learn more in the About PPG section.

Topics: ESG and sustainability progress

Response: We look to our ESG and sustainability strategy to create value for PPG in the long term. We develop innovative, sustainably advantaged products and solutions that support our stakeholders in reaching their own environmental and social goals. Our progress is supported by our high standards of integrity and professional conduct.

Learn more in the 2022 Progress, Product Overview, Community Engagement and Governance sections.

Topics: Climate-related risks, building resilience in physical assets

Response: In early 2022, we committed to setting near-term company-wide emission reductions targets through the Science Based Targets initiative (SBTi) We have submitted targets to the SBTi for approval, which cover our direct (scope 1), indirect (scope 2) and value chain (scope 3) emissions. Learn more in the Emissions section.

In 2021, we conducted a climate scenario analysis to evaluate transitional and physical climate-related risks and opportunities. We have continued to expand our analysis of climate-related risks over the last year. To address climate risks, we maintain systematic business continuity planning and crisis management processes. Learn more in the Climate-Related Risks and Opportunities section.
Topic: Continuation of operations, raw material supplies, health and safety

Response: A number of global suppliers were impacted by the weather events in February 2021 and subsequent loss of energy supplies in Texas and other southern U.S. states. PPG continues to take an aggressive approach to securing materials and carriers to minimize the impact to our customers.

Throughout the ongoing pandemic, we have enacted and adjusted protocols to protect our people, attract and retain talent and manage our business in this new environment. Learn more in the Safety and Health and People sections.

Topic: ESG and sustainability progress

Response: PPG works with our suppliers around the world to encourage sustainability as a core value, aligned to our high standards of integrity and professional conduct. Learn more in the Supplier Sustainability section.
Topic: Giving in priority areas: Education, community sustainability, employee engagement, and diversity, equity and inclusion

Response: We amplify the unique talents of our employees and the financial contributions from PPG and the PPG Foundation to reach our global communities – helping students connect with STEM education and advanced learning, transforming communities with bright colors and addressing evolving, essential needs around the world. Learn more in the Community Engagement section.
Topic: Product stewardship

Response: In compliance with all legal and ethical procedures, our Government Affairs team works closely with government stakeholders at the local, state, federal and international level to discuss environmental stewardship, sustainability, transportation, infrastructure, energy and environment related issues. Learn more below and in the Product Stewardship section.

Topic: European Union Green Deal (EUGD)

Response: The EUGD includes a broad range of policies that will help to aid in the transformation of the EU's economy to be more modern, resource efficient and competitive, with the ultimate goal of reaching climate neutrality by 2050. PPG created its EU Green Deal Committee comprised of cross-functional experts who will evaluate and ultimately respond to forthcoming policies and regulations. The team is monitoring more than 100 policies and evaluating in detail more than 24 policies, including those on energy, circularity,​ the use of certain substances like biocides, chemicals of concern and more. The EUGD impacts business in the EU and its member states, but is also projected to have global impact.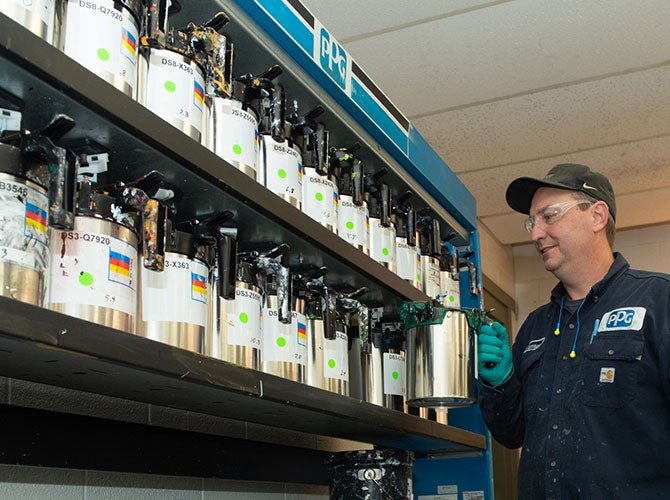 Working with our stakeholders in East Point, Georgia
We take reports of potential off-site impacts from our operations very seriously, so after receiving odor reports from the community near our East Point, Georgia, Architectural Coatings facility, PPG took action. We moved quickly to understand the source of the odors and implement control measures.
A primary concern was the welfare of the community, so we commissioned a health risk assessment that enabled environmental professionals to evaluate air emissions from the facility. This risk assessment concluded that emissions from the East Point plant did not pose a concern of adverse health effects to the community or its residents. As the risk assessment was ongoing, we also worked with an external expert to study the potential causes of odors reported by the community. As part of this study, we developed a process for receiving and monitoring for community feedback, which allowed us to analyze the time and location each complaint for comparison against the plant's processes and production schedules, as well as and meteorological conditions, to fully understand the source of the odors. We kept the community updated on our findings, and hosted community roundtable discussions to ensure transparency.
Based on the outcomes of these studies, PPG invested $500,000 in structural and process changes at the facility, which were successfully implemented in 2022. As a result, we've seen a decrease in community odor reports.
Industry and other associations
We actively work with the following industry associations by maintaining board and other leadership positions:
American Chemistry Council (ACC)
American Coatings Association (ACA) (Michael McGarry, PPG executive chairman and former CEO, served as Chair from April 2020 to April 2022)
Ethics & Compliance Officers Association European Council of the Paint, Printing Ink and Artists' Colours Industry (CEPE) (Roald Johannsen, PPG vice president, Automotive OEM Coatings, serves as Chair until September 2024)
Fédération des industries des peintures, encres, couleurs, colles et adhesives (FIPEC)
The National Association of Manufacturers (NAM)
As members of these trade associations, PPG is an active participant in various environmental and sustainability committees within ACA and ACC.
We report sustainability metrics for some PPG businesses to ACC on a regular basis. These metrics are used to validate ACC's sustainability metrics development effort under Responsible Care®, and to help the industry identify thematic risks or opportunities to consider.
In addition, we are an active participant in the RESPONSIBLE CARE® and COATINGS CARE® initiatives.
We also have employees that belong to and actively engage with the following associations, which help companies collaborate and share best practices across industries:
The World 50 Sustainability 50
The Conference Board
Green Chemistry Council
Political Contributions
We do not make any political contributions as a company to political parties or candidates.
In the United States, our employees have formed a political action committee (PAC). Under the umbrella of this independent, voluntary, registered committee, employees collect donations to politicians, political parties and associations and make decisions as to how the funds will be used. The PAC Executive Committee has broad employee representation and approves all political contributions made on behalf of the PAC. The PAC is governed by a series of internal policies and adheres to a strict set of by-laws.
In 2022, total PAC contributions totaled $124,600 to local, state and federal candidates for elected office representing the Republican and Democratic political parties.
Our PPG PAC contributions included those made to individual candidate political campaigns as well at other business PACs including our trade associations. There was no spending on ballot measures or referendums. The PPG PAC participates in political engagement on a case-by-case basis, guided by the key issues important to PPG PAC members. These issues include DE&I, energy and environment, infrastructure, regulatory reform, tax and budget, technology, and trade.
Political contribution receipts and disbursements are reported in detail and disclosed publicly on the U.S. Federal Elections Commission website.
A political contributions overview and more information on political activities is provided on the PAC website and our Government Affairs website.
The largest public policy advocacy issues for the PAC in 2022 included infrastructure investment, tax and trade.
Advocacy
We engage with customers, nongovernmental organizations, government agencies and other stakeholders to ensure that we understand their requirements and they, in return, understand our position and requirements for efficient and sustainable business operations. As an example, we advocate for education and availability of clean energy. In 2022, PPG was a member of the steering committee and sponsor of the Clean Energy Action Forum held in Pittsburgh - our headquarters community.
Our advocacy efforts are global and encompass regulatory matters related to environment, health, safety and product stewardship. Our Regulatory and Emerging Issues Process helps our businesses track emerging issues and identify opportunities for advocacy based on risk and financial impact. We work closely with our businesses and technical community to ensure strong two-way communications and engagement as advocacy issues develop.
The PPG Advocacy Steering Committee works to promote alignment among our businesses and to provide direction on engagement. The committee meets routinely to monitor the progress of current advocacy efforts and review new initiatives. Though there are numerous chemical specific advocacy efforts underway, the following principles are applied to keep our messaging consistent:
Sound science
Risk-based approach
Practical solutions
We continue to engage with the U.S. Environmental Protection Agency (EPA) on matters related to TSCA implementation under the Lautenberg amendments, such as workplace chemicals management and risk assessment. In Europe, we are closely following the Chemical Strategy for Sustainability under the EU Green Deal to ensure we provide comments to advocate for risk-based, sustainable solutions supported by sound science. In other parts of the world, such as Latin America, we are advocating for a risk-based chemicals management strategy as countries prepare chemical inventories.