We select suppliers that share our sustainability commitment and support continued improvement throughout our value chain.
In addition to our work to improve the efficiency of our own operations, we work to understand the environmental and social impacts of our value chain and reduce the negative impacts of our suppliers.
Our supplier sustainability highlights in 2022
3%
of additional diverse spend identified through existing suppliers
70%
of invited suppliers have responded to EcoVadis
In 2022, we spent over $10 billion with more than 17,000 suppliers globally on raw materials, indirect products and services, and the transportation of goods.
Over the last year, we continued to increase our understanding of suppliers' sustainability performance and capabilities.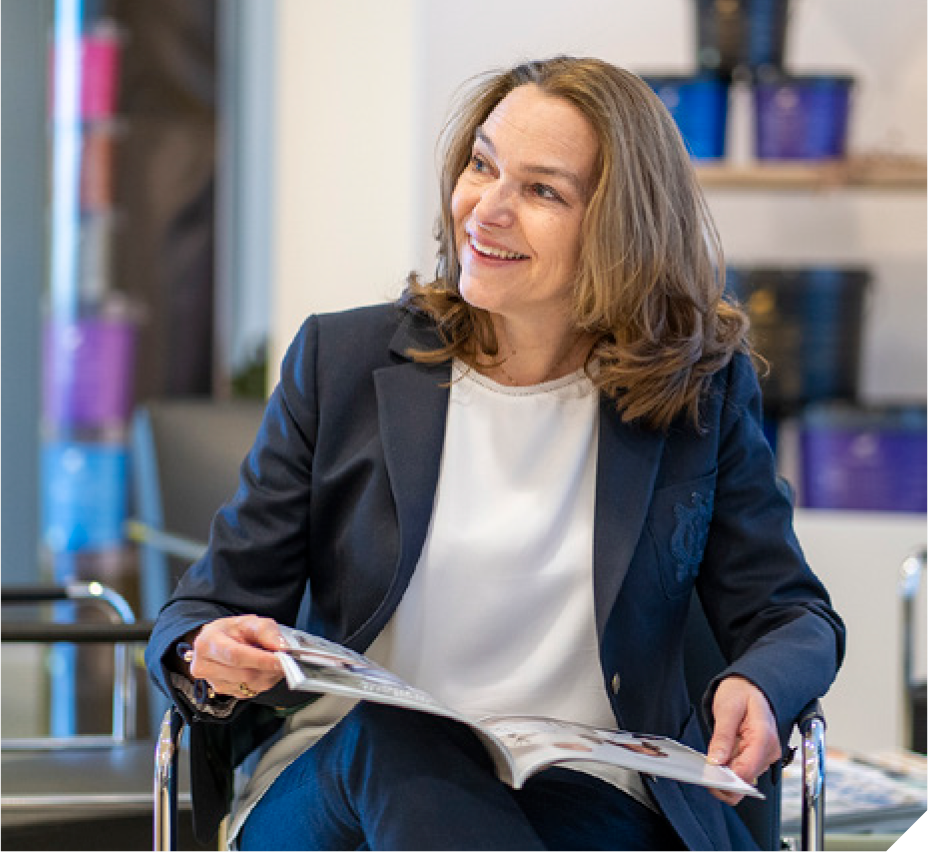 We launched a new internal Supplier Sustainability Tracker in 2022, which helps identify ongoing sustainability programs and initiatives that support improvements in supplier performance. Our Chief Procurement Officer shares the most impactful programs identified through the tracker at quarterly town hall meetings to increase awareness of leading practices and identify opportunities to enhance the capabilities of other suppliers.
We continued to expand the use of EcoVadis, a leading third-party ratings organization, to evaluate our suppliers' sustainability practices. As of the end of 2022, over 700 of our suppliers have responded to surveys and been rated by EcoVadis.
In early 2023, our work has been focused on onboarding suppliers from recent acquisitions to ensure that our supplier management is consistent across PPG. We have been working to merge Tikkurila's supplier platform with EcoVadis, which helps promote consistency in how we measure and manage supplier performance. At the end of 2022, 60% of rated Tikkurila suppliers had been consolidated into PPG's EcoVadis platform, and we reached 100% in early 2023.
Our EcoVadis Program will continue to cover PPG's top-spend suppliers. In addition, we plan to extend the scope of the program to suppliers that may pose high risk, including country/geographical and industry risks. Together with the EcoVadis team, we are working to implement a tool for quick supplier risk assessment.
Beyond the EcoVadis evaluations, we have shifted the focus of our internal supplier evaluations to review our most critical and highest risk suppliers. We identify suppliers for more in-depth review based on country- and industry-specific risks.
Through 2022, we worked with a third party to promote growth in our Supplier Diversity Program in the U.S. Our partner helped us to identify an additional 3% of diverse spend through existing suppliers, and sourcing of potential new suppliers that meet the diverse supplier criteria.
Supply Chain Traceability partnership with Porsche
Traceability is critical to confirming claims that products are sourced and manufactured with minimal social and environmental harm. PPG is working closely with partners to enhance the accessibility of detailed information about production processes throughout the supply chain.
In one such partnership, PPG is the sole coatings company working with Porsche on a project managed by Circularise, a transparency and traceability start-up that uses blockchain to track and share information across complex supply chains. Circularise enables the secure sharing of information related to carbon emissions, lifecycle analyses, health & safety, human rights, transportation information and more. The company's use of blockchain is important because it allows participants to share verifiable data without the threat of exposing proprietary information about their product composition or processes.
Circularise's solution is built on Ethereum blockchain, which uses the proof of stake method of validation. Proof of stake is less energy intensive than proof of work, which is the method employed by some other blockchain applications.
Excellent Supplier Awards
We recognize suppliers for performance that consistently exceeds our requirements with the Excellent Supplier Awards, our highest-level recognition for vendors. Our procurement, business and functional teams evaluate nominated suppliers for their quality, delivery reliability, accurate documentation, innovation, responsiveness, commercial value, compliance, service and sustainability. Suppliers are ultimately recognized for performance in one of three categories: competitive advantage & value, sustainability and supplier diversity. There were eleven awardees in 2022.
---
Data highlights
Average EcoVadis score of suppliers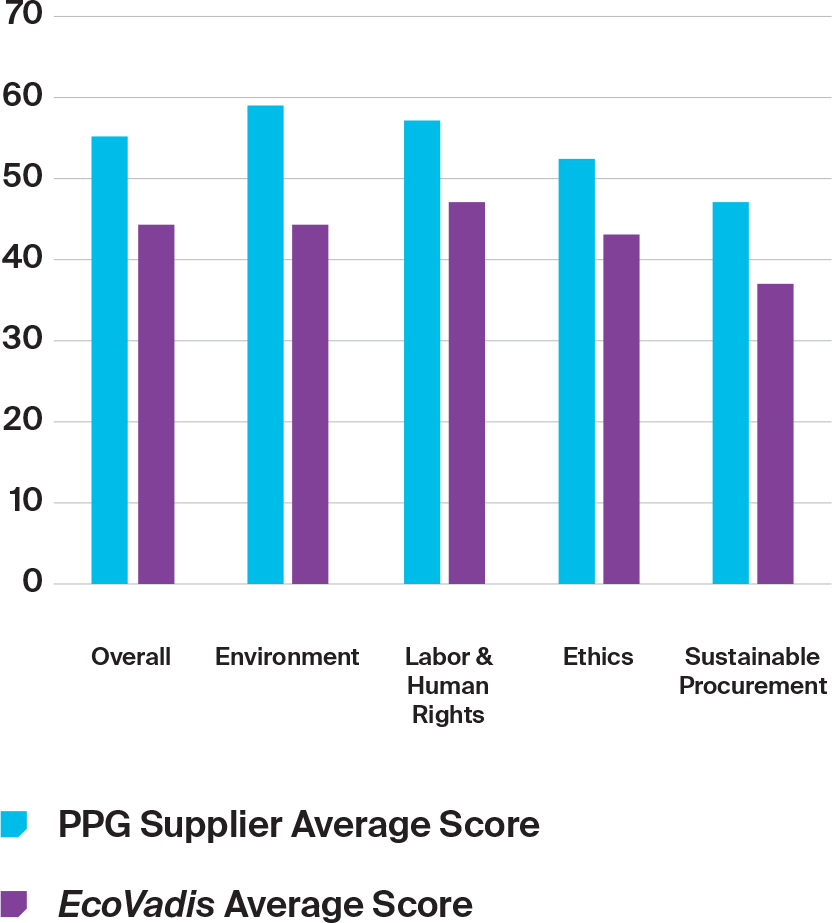 Supplier sustainability audits by region
| | | |
| --- | --- | --- |
| | On-site audits | Remote audits |
| Europe, Middle East and Africa | 26 | 1 |
| U.S. and Canada | 27 | 170 |
| Asia Pacific | 7 | 1 |
| Latin America | 17 | 29 |
These audit results are in line with previous years and met PPG's expectations.
Our approach to supplier sustainability
We expect our suppliers and their subcontractors to fully comply with all applicable laws and to adhere to internationally recognized environmental, social and governance standards. We also expect our suppliers to minimize the negative environmental impacts from their operations and products, and to continuously improve their performance. Our Global Code of Ethics, Supplier Sustainability Policy and Global Supplier Code of Conduct clearly state our expectations for every supplier.
Globally, we work to comply with evolving regulations that impact our operations, and expect the same from our suppliers. These regulations include the Modern Slavery Act of 2015 in the UK; General Data Protection Regulation (GDPR) in the EU; Registration, Evaluation, and Restriction of Chemicals (REACH) in the EU; and other third-party due-diligence screenings for compliance purposes.
We are constantly working to improve our supplier sustainability programs. We benchmark our performance against peers, improve our reporting and program visibility, consistently expand our programs and provide training to our staff. We also create long-term plans on joint-sustainability initiatives with third-party organizations to drive future change.
Visibility across the supply chain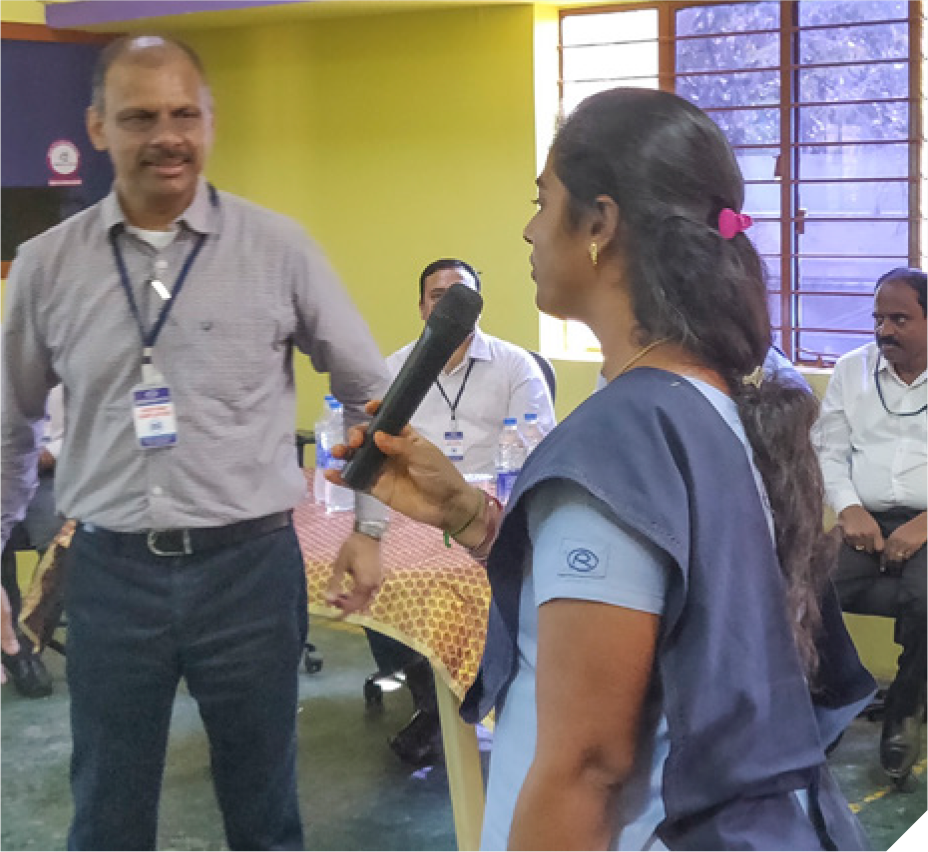 Our procurement and sourcing teams use a standard eProcurement (ePro) platform where all global suppliers are registered. Within ePro, suppliers can acknowledge our Global Supplier Code of Conduct, Sustainability Policy, and confirm compliance with data privacy laws as they pertain to any relationship with PPG. Across our operations in the United States and Canada (USCA) and Europe, Middle East and Africa (EMEA) regions, we also use ePro for procure to pay (P2P). We intend to extend ePro P2P into our operations in Latin America and Asia Pacific in the future.
We maintain an internal global spend visibility database to help identify and manage potential high-risk suppliers throughout the supply chain. We assess both our critical raw material, indirect, and logistics suppliers, and high-risk suppliers throughout the value chain. Critical suppliers are identified based on our total procurement spend, while high-risk suppliers may be identified based on geographic position, industry and other factors. We evaluate and monitor more than 1,000 suppliers based on these criteria each year to gauge current or potential risks present in our value chain.
PPG works with EcoVadis, a leading third-party ratings organization that assesses responsible practices of more than 60,000 companies worldwide, to evaluate the sustainability of suppliers across our supply base. EcoVadis evaluates suppliers across four key segments:
Environment: Energy consumption, product use, customer health and safety, and biodiversity
Labor and human rights: Employee health and safety, working conditions, child labor, forced labor, human trafficking, diversity, discrimination and harassment
Ethics: Corruption and anticompetitive practices
Sustainable procurement: Supplier environmental and social practices
Suppliers receive an EcoVadis scorecard which provides an overall corporate social responsibility performance rating, and allows them to benchmark their performance against peers in the same industry. Our procurement organization uses these insights to make sourcing decisions and drive improved supplier performance.
We collaborate with external partners to incentivize broader systemic action in particularly high-risk geographic areas and industries. As an example, we are founding members of the Responsible Mica Initiative, which aims to enable a responsible and sustainable mica supply chain in India. Learn more in the Human Rights section.
Monitoring supplier performance
Our Procurement organization works across our departments, regions and businesses to identify, assess and audit potential and existing suppliers on an ad-hoc or scheduled basis.
Suppliers are selected for audits based on an assessment which may include factors such as business impact, supply chain risk, product category, supplier development, quality requirements and sustainability performance. We evaluate suppliers on criteria which may include:
Product and process reviews
Production process: formulations, packaging and shipping
Financial stability
Quality systems: key controls, inspection and testing, abnormality reporting and continuous improvement
Human rights and regulatory performance
Environmental, health and safety performance
Contamination prevention
Other: training, industry-specific certifications, sustainability processes and contingency plans
Suppliers that perform well are moved to or maintained in PPG's approved supplier pool. Low scoring suppliers may be placed on a performance improvement plan and face temporary suspension or discontinuation of business, depending on the audit findings.
Supplier diversity
Our Supplier Diversity program aims to increase opportunities for diverse suppliers, and ultimately drive PPG spend to qualified diverse suppliers. Our company and communities benefit when we provide equal opportunities for diverse suppliers to compete for our business.
Our Supplier Diversity program supports this effort by working across four focus areas:
Data and technology: Building data systems and capabilities within PPG to identify qualified suppliers
Operational program elements: Ensuring that qualified suppliers are included in sourcing projects and supported as needed
Resources to drive results: Facilitating leadership and buyer awareness, support and collaboration
Effective outreach: Reaching out to qualified suppliers, putting on events, and raising awareness of the program internally and externally
The diverse supplier program applies to the USCA region of PPG, primarily in the United States. The program is supported by our Procurement Center of Excellence, which helps identify tools, suppliers and best practices to share across the program participants. To be considered for the Supplier Diversity program, suppliers must meet requirements laid out by certifying entities and government agencies. Qualifying suppliers include U.S. owned and privately held businesses that are owned by veterans, minorities, members of the lesbian, gay, bisexual, transgender and queer (LGBTQ+) community, people with disabilities and women.
Engaging with suppliers
Each year, we also recognize suppliers whose performance consistently exceeds our expectations with our Excellent Supplier Awards. Suppliers are nominated based on quantitative and qualitative criteria, including commercial value, innovation, service, sustainability, quality and compliance. Awards are given to outstanding suppliers across our suppliers, logistics providers and energy providers.
In addition to helping suppliers evaluate and improve their sustainability performance, we seek their help in improving our own. We are increasingly gathering detailed information on the sustainable attributes of the raw materials used in our formulations. We identify products that contain bio-based materials, recycled content and are lower toxicity chemicals. Discussions with our largest suppliers regarding areas of collaboration on sustainable raw materials will continue to increase as we look to improve the sustainability of our products. Expanding the information available to our procurement teams helps us manage the environmental and social impacts of our procurement decisions. Other examples of supplier engagement include asking suppliers to provide more environmentally conscious products, recycling packaging used to ship materials to our facilities and offering more fuel-efficient transportation services.
Learn more in the Stakeholder Engagement section.