We have an unwavering commitment to strong corporate governance, ethics and compliance.
At PPG, we hold ourselves to a high standard of integrity and professional conduct. This means not only ensuring compliance with the law, rules and regulations, but also upholding our values, code of ethics and voluntary commitments.
Our governance progress in 2022
25%
of Board members are diverse by gender
25%
of Board members are diverse by racial background
10 of 12
Board members are independent
33%
of Executive Committee members are women (as of May 1, 2023)
35,000
employees trained on compliance topics
We review and update our policies regularly to ensure they support us in meeting our high standards of integrity and professional conduct. Key policy updates and other governance developments in 2022 include:
Board composition, refreshment: At our 2022 Annual Meeting, shareholders approved a Board-sponsored proposal to amend PPG's Articles of Incorporation to provide for the annual election of all directors. The Board is currently comprised of 12 members, divided into three classes. Terms of the classes are staggered, with one class standing for election each year. Pursuant to our amended Articles of Incorporation, all directors will be elected annually beginning at PPG's 2025 Annual Meeting.
Refreshed Code of Ethics: Our refreshed Code of Ethics was adopted by our Board effective May 1, 2022. The updated Code is easier for our employees to understand and navigate. The updated document is available on our website and includes links to resources and explainer videos to ensure our people understand their ethical responsibilities.
Data privacy policies: We restructured the governance of data privacy to ensure that we're the best possible stewards of sensitive information. The Audit committee is now responsible for overseeing PPG's global data privacy policies and initiatives, and receives updates on progress annually.
IP Protection Executive Committee: We established a new management committee to ensure our intellectual property is being appropriately safeguarded.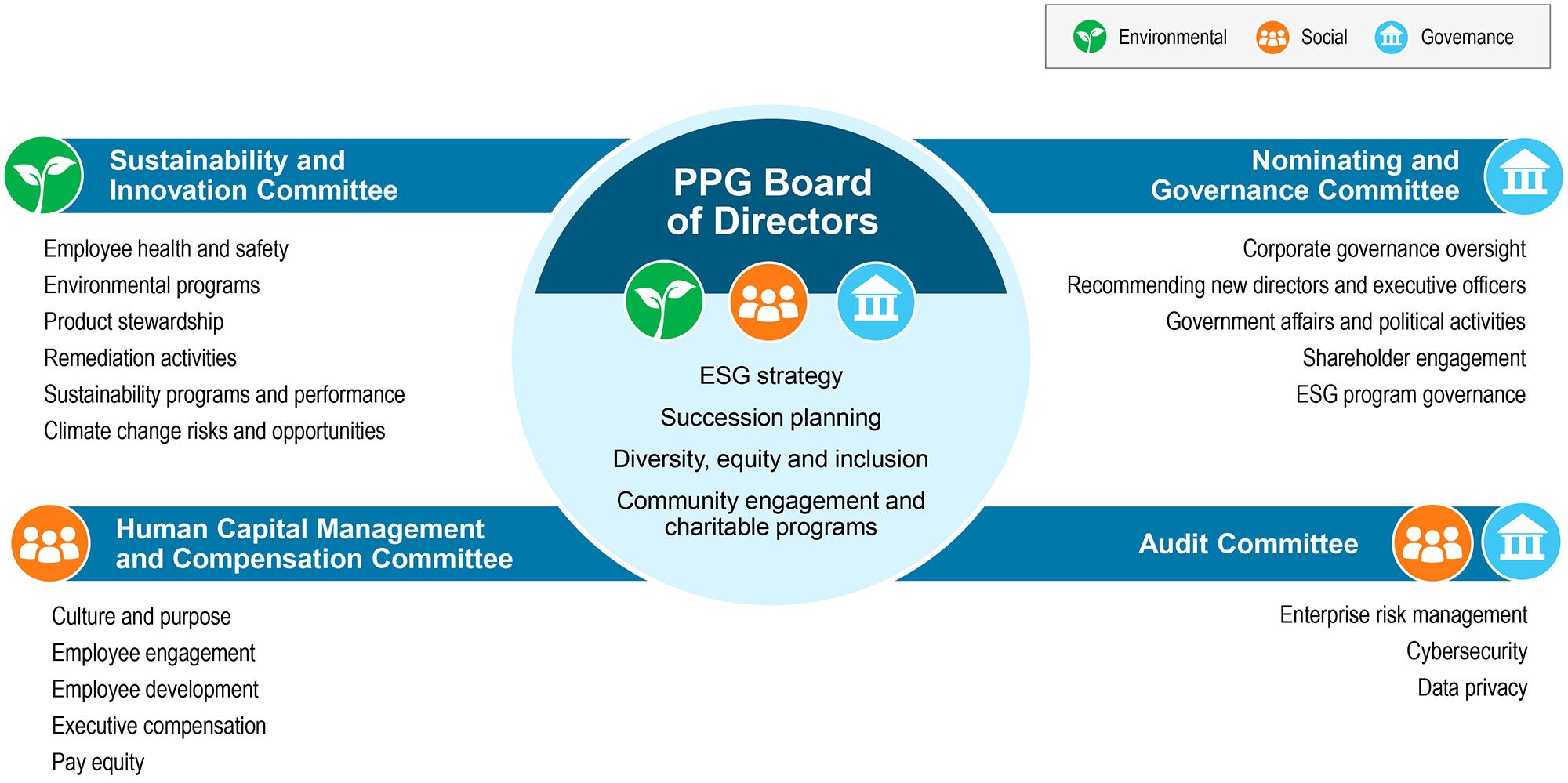 2022 APAC Compliance Knowledge Contest
In 2022, we redoubled our efforts to reach all PPG employees with ethics and compliance training and encouraged regional and site-level initiatives to build compliance culture. This enables managers to tailor initiatives to their unique context and helps us identify initiatives that we can scale across our global footprint.
The PPG China operations department and the Asia Pacific compliance department worked together to launch a knowledge contest for our operational employees, who may not have regular access to electronic training resources. The contest began with a knowledge sharing campaign that included distributing informational posters, reviewing materials during daily and weekly meetings, email outreach and promotions through Yammer and WeChat.
The contest encouraged employees to commit PPG's strict compliance requirements to memory, and rewarded the highest scoring participants with small gifts. More than 1,400 employees participated across the region, 94% of the total number of eligible employees. A total of 288 participants advanced to the final stage of the contest and earned a prize.
"Compliance is always the foundation of our corporate culture and the long-term success of the company."
James Dai - PPG compliance director, Asia Pacific
---
Multi-year data highlights
Investigations by region
| | | | |
| --- | --- | --- | --- |
| | 2020 | 2021 | 2022 |
| Asia Pacific | 56 | 83 | 94 |
| Europe, Middle East and Africa | 72 | 74 | 83 |
| Latin America | 120 | 124 | 131 |
| United States and Canada | 335 | 376 | 403 |
| Total | 583 | 657 | 711 |
Disciplinary Actions
| | | | |
| --- | --- | --- | --- |
| | 2020 | 2021 | 2022 |
| Warning | 165 | 200 | 216 |
| Counseling | 155 | 119 | N/A |
| Financial | 6 | 7 | 10 |
| Suspension | 11 | 3 | 11 |
| Termination | 119 | 127 | 173 |
A single allegation may be made against multiple individuals and could result in multiple disciplinary actions. The 2022 data include only investigations closed as of Jan. 31, 2023.
We no longer report counseling as a disciplinary action resulting from an investigation. This reflects an ongoing evolution in our approach to disciplinary action. We are continuing to offer counseling whenever it is warranted, but favor written disciplinary actions in instances of substantiated allegations.
Substantiation Rate
Percent
| | | |
| --- | --- | --- |
| | PPG | Benchmark |
| 2022 | 62 | 52 |
| 2021 | 56 | 45 |
Benchmarks represent comparisons to other manufacturing companies with 50,000+ employees. Data for 2022 are as of Jan. 31, 2023.
Anonymous Reports
Percent
| | | |
| --- | --- | --- |
| | PPG | Benchmark |
| 2022 | 37 | 47 |
| 2021 | 36 | 47 |
Benchmarks represent comparisons to other manufacturing companies with 50,000+ employees. Data for 2022 are as of Dec. 31, 2022.
Case Intake Method
| | | |
| --- | --- | --- |
| | Helpline | Proxy |
| 2022 | 352 | 359 |
| 2021 | 326 | 331 |
| 2020 | 318 | 275 |
| 2019 | 282 | 268 |
In 2022, we opened 711 investigations encompassing 1,034 allegations of employee misconduct. Of the allegations closed as of year's end, 62% were substantiated and resulted in 410 disciplinary actions.
50% of these reports came through the PPG Ethics Helpline in the form of phone or internet submissions. We received the remainder through internal sources, including direct communications to the compliance department, human resources and management.
In addition, we have implemented processes to better track post-investigation corrective actions, including piloting a survey to seek feedback from people who reported an issue that was substantiated. The survey's intent is to focus on understanding reporters' satisfaction with the handling of the investigation process. Specifically, the survey seeks to understand if the reporters felt that they were treated with respect in the process and that their concerns were handled in a professional and timely manner.
We received 62 responses to this survey in 2022. Of the responses we received:
77%
of survey participants felt that their investigation was completed in a fair, unbiased and confidential manner
79%
of survey respondents said that they were treated with respect throughout the investigation
71%
of respondents said they were satisfied with the timeliness of the investigation
66%
of respondents said they would recommend the Helpline to a colleague
Our governance approach
Corporate Governance
PPG is governed by a Board of Directors in accordance with our Corporate Governance Guidelines. As of December 31, 2022, the PPG Board of Directors was made up of 12 members. PPG's Board is actively engaged in developing our strategy and overseeing its execution, including major business and organizational initiatives, capital allocation priorities and potential business development opportunities. The Board uses its experience in manufacturing, global business, science and technology, and marketing to oversee the execution of our strategy and capital allocation and works with senior management to guide our strategy.
Managing risk and compliance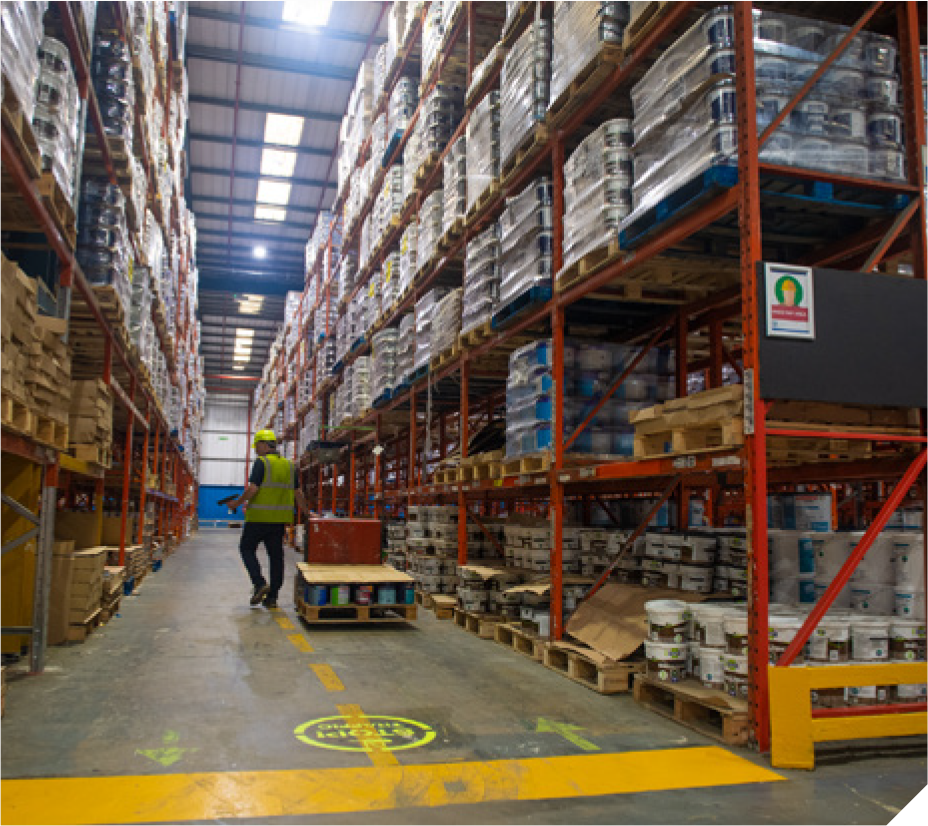 The Executive Risk Committee (ERC), comprising the Executive Committee and the director of corporate audit services, leads our enterprise risk management processes, including our annual risk assessment. While the Audit Committee has primary responsibility for overseeing enterprise risk management, our entire Board is actively involved in risk management for PPG by engaging periodically with company officers and other employees as appropriate.
The Audit Committee of the Board is also responsible for overseeing ethics and compliance. We maintain an executive-level Global Ethics and Compliance Committee chaired by our CEO, as well as regional committees chaired by our regional business leaders.
Our compliance office is headed by our chief compliance officer (CCO), who reports to our senior vice president and general counsel. The CCO also reports to the Audit Committee two times per year. Employees in our global compliance office oversee general ethics and compliance matters, investigations, export compliance, data privacy, corporate security, ethics and compliance training and more. They are supported by hundreds of employees worldwide who help implement specific codes, policies and initiatives.
We conduct a global legal and compliance risk assessment every two years. The most recent assessment occurred in late 2021. We survey more than 200 country, regional and global leaders representing all our functions and business units regarding 44 legal and compliance risks across nine risk categories. We execute risk mitigation plans for the top ten residual risks by region identified by these assessments. The nine risk categories that we considered in our most recent risk assessment are:
Anti-corruption
Corporate compliance and culture
Safety and protection of assets
Export practices
Proprietary information
Employee relations
Records management/retention
Data privacy
Third-party management
Codes and policies
The PPG Global Code of Ethics, which is available in 32 languages, sets forth the principles that apply to all employees – everywhere and in every circumstance. Supplementing the code are specific policies and procedures that include our Global Export Control Policy, Gifts, Sponsorships and Charitable Contributions Policy, Anti-Corruption Policy, Due Diligence Procedure for Third Party Intermediaries, Social Media Policy and Denied Country Policy.
Training and communications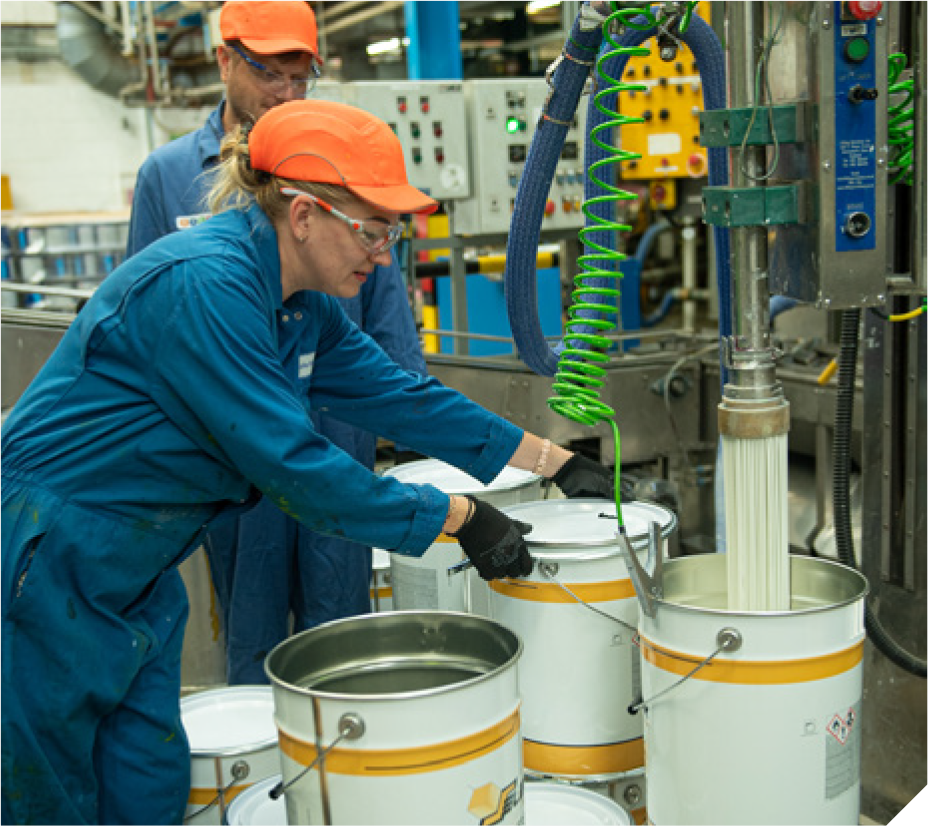 Our employees have access to online trainings in multiple languages through our Learning Management System. These trainings cover, among other topics, anti-corruption, competition law, conflicts of interest, export compliance and the PPG Global Code of Ethics. We also deliver in-person training in every region, with particular focus in higher-risk regions and for higher-risk topics.
Our ethics intranet site provides information on training resources, policies and procedures as well as a mechanism for reporting ethics and compliance concerns. We also communicate with all employees on ethics and compliance topics throughout the year via:
Virtual meetings highlighting ethics and compliance topics
Manager toolkits including presentation materials and discussion points
Topic-specific flyers and materials distributed to U.S. manufacturing locations
Discussion guides designed to help managers lead conversations on ethics and compliance topics.
Additionally, our "Speak Up Challenge" provides a high-level review of our ethics and compliance investigations in the prior period, offers an in-depth look at a specific ethics or compliance issue and encourages employees to report concerns. Past topics have included diversity, equity and inclusion, unprofessional behavior, workplace violence, sexual harassment, and the value in speaking up/investigation process.
We conduct two virtual roundtables each year with our businesses and functions to review the status of the business' and functions' ethics and compliance training, ethics investigations, PPG Ethics helpline activity and third-party due diligence program.
Reporting and investigations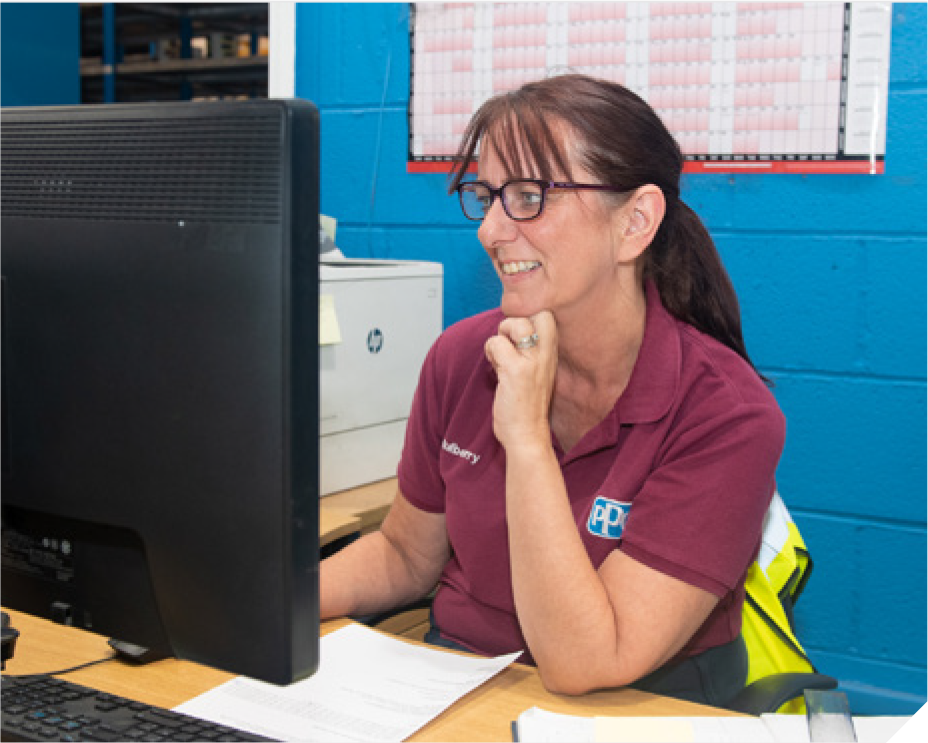 The PPG Ethics Helpline is available for all employees and third parties, including customers and suppliers, to ask ethics and compliance questions or to report a concern anonymously. The helpline is managed by an independent, third-party firm with multilingual representatives who are trained to listen carefully, ask questions and document the situation accurately and anonymously.
Individuals also can contact several management resources, including our human resources staff or chief compliance officer (CCO), to report concerns. It is against PPG policy to retaliate against anyone for making a good-faith report of a violation of law or the PPG Global Code of Ethics.
Our compliance office handles all reported issues, with each taken seriously and appropriately addressed. Each case is assessed by an appropriately assigned functional or regional investigator or team. Investigators review and preserve relevant documentation, conduct interviews, communicate relevant findings, prepare a final report, and identify and ensure the completion of any appropriate corrective actions. Disciplinary actions are the responsibility of the human resources team in conjunction with legal, compliance and the business.
Although the complexity of any allegation may necessitate an extensive investigation, our goal is to close the investigation and case report in a timely manner. The person who reports the issue through the helpline is given a case number to anonymously check the status of their report throughout the process. To encourage involvement and promote transparency, we provide data on reported ethics concerns to our employees throughout the year.
We track post-investigation corrective actions, including by surveying people who reported substantiated issues. Surveys focus on understanding the reporter's satisfaction with the handling of their concern to ensure that respondents are treated with respect and that concerns are handled in a professional and timely manner.
Sustainability governance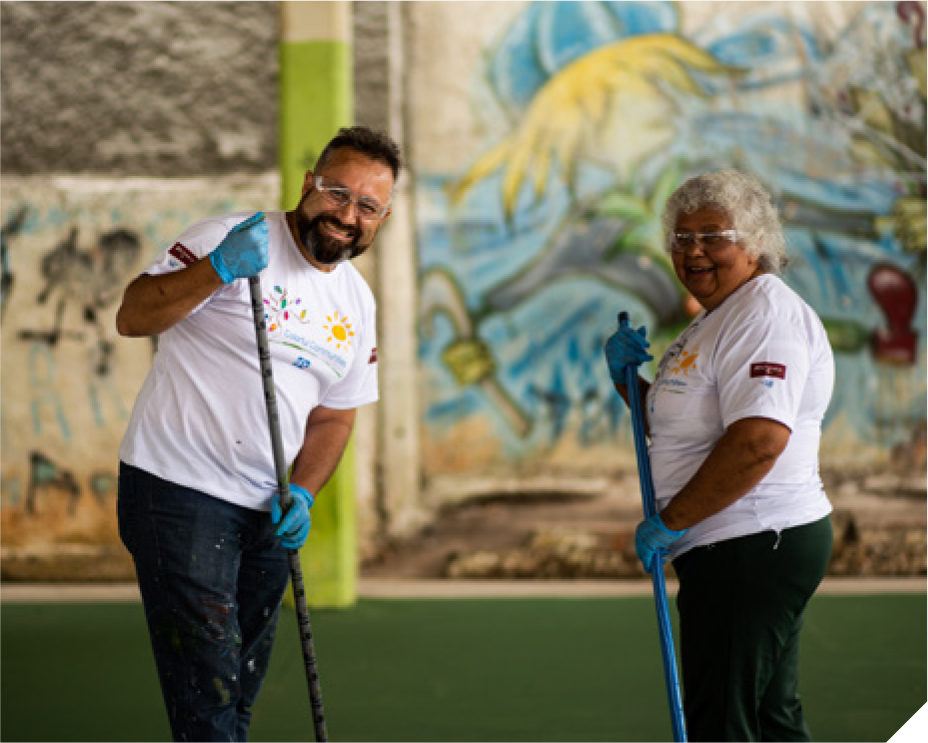 Our Sustainability organization is responsible for developing our corporate sustainability strategy and working alongside our businesses and functions to execute that strategy. The organization is led by the vice president of global sustainability, and collaborates with teams across PPG to drive our environmental, social and governance (ESG) efforts, including reducing the environmental impact of operations, mitigating climate change impacts, identifying opportunities to increase sales of sustainably advantaged products and growing PPG's positive impact on communities in which it operates. The sustainability organization is assisted by our management-level Sustainability Committee, which assists with creating action plans and ESG policies.
The vice president of global sustainability serves as the risk owner for ESG, and is responsible for:
Working with other risk owners and across the organization to facilitate and drive action on the top-tier ESG risks
Defining and monitoring appropriate leading and lagging indicators associated with these risks
Bringing other insights that might be considered relevant to the ERC for holistic, integrated management of ESG risk across PPG
PPG's programs, initiatives and activities in the areas of environment, health, safety, technology and sustainability are overseen by The Sustainability and Innovation Committee of the Board, with support from other Board-level committees depending on the issues and risks involved. The Board engages with management on ESG strategy, climate change risks and opportunities, and has oversight of the tracking of our sustainability progress. The vice president of global sustainability reports progress to the Sustainability and Innovation Committee three times per year, and the full Board of Directors once per year.
To learn more about governance of our diversity, equity and inclusion (DE&I) efforts, visit the DE&I section.